St Vincent and the Grenadines' Peta Odini
It was ten years ago when Peta Odini Sutherland began designing, making "small things" such as bags and other types of women's clothing before leaving her native St. Vincent and the Grenadines to study fashion in London. It was while there, that Odini's life would change, channeling her into the industry of menswear; an unorthodox choice for a woman, but the perfect niche for this young Vincentian designer.
Odini completed the Fashion Foundation course at the London College of Fashion and then moved on to Ravensbourne in 2009. At Ravensbourne Odini started out as a textile print design student, but later fell in love with menswear after doing an elective in the field. She transferred to the Menswear group in the last term of her first year and went on to graduate in the summer of 2012 with a BA (Hons) in Fashion with specialism in Menswear.
"I just really enjoyed the tailoring and all the technical work we got to do on the menswear programme," Odini told the Pepperpot Magazine. "I also liked the fact that it was an area that was not very saturated and I personally also love wearing men's clothes because they tend to have a great fit and lots of pockets! So I really wanted to create things that I liked."
Admittedly, Odini said that the general response to her Peta Odini fashion line is one of surprise, especially since her name- in itself- sounds like that of a male designer. "And of course the fact that most menswear designers in the region [and internationally] are male as well, has contributed significantly to that assumption," she said.
But despite the usual reaction by the public, Odini is not surprised. "I usually just chuckle about it, with the first name Peta, I've been referred to as 'Mister' a few times so it really doesn't faze me at all now," she said. And while the line is made up predominantly of male clothing, there are still pieces fit for the "cool girl" type customer looking for the not-so-traditional style of clothing.
On fashion and passion
The young designer states that her inspiration for designing stems from many places; and like a true artist, those places usually stem from art itself, or sometimes, real life inspiration from persons around her. "I suppose people will say my use of colour and print is a Caribbean thing … maybe it is, maybe it isn't because there is so much colour in the world, so who knows where exactly that comes from," she said.
Either way, Odini said that designing is her passion, adding that there is no better feeling than being able to create something from scratch then seeing it worn by someone else. "I think that's one of the most fulfilling things ever, so it's a very big part of who I am and what I do so it's probably one of the – if not the most- important things in my life at the moment," she said.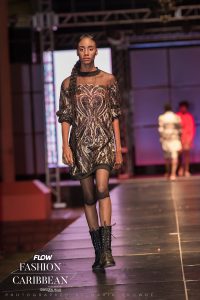 In her ten years' designing, Odini has certainly fit well into her niche, and she admits that the response to her work in the Caribbean is generally positive. "The Caribbean is a somewhat strange place when it comes to the creative arts/industries. I think we as a region are still not sure of the value of the work being produced here. But overall I've never heard anyone say they don't like what I do…but I know that not everyone can wear what I make, it's really not for everyone and I am fully aware of this. I'm sure there are people who would look at what I do and think it's ridiculous but the majority of the feedback is always positive," she said.
Odini recently took her work into the international market, having showcased her line at the Caribbean Style and Culture Awards in Maryland. It was here where she received her first award as a designer as well. "It was eye opening for me because people actually knew of me and my work before I got there and I was not prepared for that. The few people I was able to speak to after the show as well as the models and organisers in general had positive things to say," she said.
True to her artistic nature, Odini revealed that apart from designing, she also pays a keen interest in other types of art. "To me I think anything can be art but sometimes I find some things are trying too hard to be art and so it falls flat. However…when I discover something I really like, I want to see everything about it. I get a little obsessive in finding out the back story, because who doesn't love a good backstory? And sometimes I find the process of creating to be a lot more intriguing than the final product. So I'm always interested in why someone has chosen to do something," she said.
As Odini progresses in her craft, she remains grateful for those who have supported her, particularly those who have believed in her enough to honour her for her work or allow her to showcase it. "Attending the Caribbean Style & Culture Awards made me truly humbled by the fact that someone out there in the world who I had never met before thought my work was worth highlighting in this manner and I don't think I will forget that for a very long time," she said.