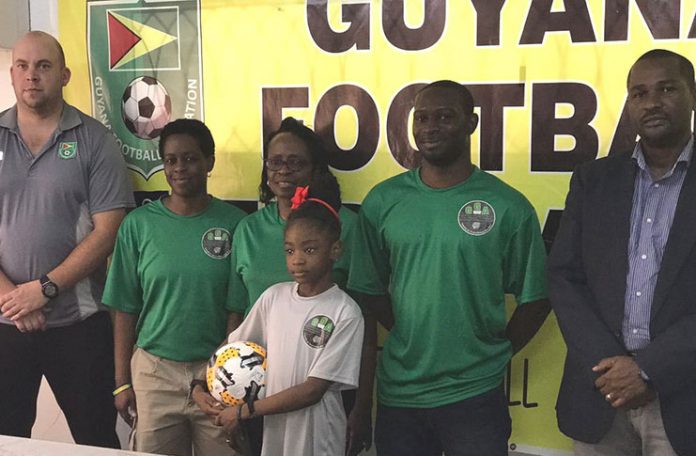 THE Guyana Football Federation (GFF) yesterday teamed up with the Guyana Girls Academy (GGA), to launch their 'Summer Girls Academy', catering for girls between ages 7 and 11, who are interested in the game of football.
The camp commenced today at the Transport Sports Club ground, Thomas Lands and concludes on Friday, July 28.
According to GGA president Colin Wilson the idea was to create a girls' academy that would develop, train and educate players to compete at a collegiate, professional and international level as well as to help ignite a strong women's football culture in Guyana that would continuously fuel the women's national team programme.
"With this camp we are starting off with the younger girls and we are hoping to build from there so we can get as many girls as possible to create a bigger player pool for Guyana so they can compete at the highest level in the future," Wilson said.
Wilson, who is also a female football coach in the USA where he resides, told the gathering of media personnel at the GFF Secretariat yesterday that "the idea is to get as many girls as possible. Obviously with me being up in the (United) States, I only have so many resources down here in Guyana. So with a few of the connections I made down here with the GFF and a few friends from ABSAA, I was able to get them to reach out to a few girls in Georgetown and also surrounding areas and they were able to pool a number of girls."
"I was able to do some crowd funding back in the States and to get the equipment for those girls so with the pool, we can start with that and for the next one, hopefully, it can grow and then we can branch out to all the other areas of Guyana.
"In about five to 10 years I am hoping we can get our own facility or be able to share a facility with one of the other organisations so we can have a year-round girls' academy," Wilson pointed out.
Wayne Forde, president of the GFF, stated the partnership with the GGA, shows his Federation's continued effort to reach out to fellow Guyanese and those with Guyanese roots, in building a strong coalition that will support the development of football at every level of the game and every category of the sport.
Forde stressed on the efforts being made by his executive committee through Technical Director Ian Greenwood, to bring some focus and structure to women's football.
"Thank you for the interest and clearly the commitment, the resources, knowledge and experience you will bring to the work we are already doing here" Forde said, while offering the GFF's continued support in ensuring the sustainability of the programme.
Meanwhile, Greenwood pointed out that "at the moment, women's football locally is 20 years behind where it should be. At the GFF we are re-launching women's football in the country and that process started with the appointment of our very first Women's Development Officer Tricia Munroe. We have a lot of activities now at the grassroots levels for female players.
"We currently have our U-17 national women's team in training camp preparing for our tournament (CONCACAF U-17 Championship) which Guyana will be hosting."