'BLOSSOMS of Guyana,' a US-based non-profit organisation, is thinking hard and outside the box about developing Guyana's schools and bettering the lives of children at several orphanages countrywide.
And even though the world is advancing technologically, they blend books and computers to create an interesting learning environment, one school at a time.
"We want to make sure that we're creating an impact, so we're providing the schools with what is it that they really need," says team member, Sharon Bollers.
"We wanna make sure that you're actally using what we are providing; we wanna make sure that it makes sense," she told the Guyana Chronicle.
Bollers, who lives in the US, said "Blossoms of Guyana" has had a presence here since 2009, donating educational material like books and other school supplies, and rebuilding libraries, stocking them with books and computers.
Just April, she said, it not only refurbished the library at Houston Secondary School, but also donated several computers and over 2000 books to other schools across the country, including Timehri Primary, St. Agnes Primary, and Golden Grove Secondary.
Since they have started working with school libraries and reading rooms here, Bollers said, they have donated thousands of books and other educational material, but would rather supply according to the demands of the schools they have partnered with, while connecting with new institutions.
AMBITIOUS PROGRAMME
But there's one small problem, however. Because of the magnitude of the work they propose doing here, Bollers said, they could do with a bit more funding.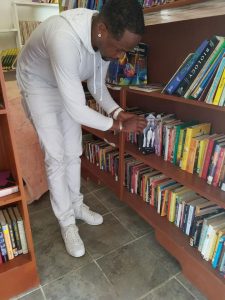 "The more funding we can get, the more projects we can get," she said, adding:
"Our vision is, in addition of course to maintaining the relationship with schools, to add more schools.
"We were speaking with Supply as well as Soesdyke Primary Schools, and so we're planning to work with those schools going forward as well. With each school, we plan to add additional services that we will be working on with them."
She said that many of the schools they've visited have expressed a need for other supplies like gear and tools that will develop physical education, sports and other extra-curricular activities.
Bollers said "Blossoms" is willing "to help them expand into becoming these learning centres, meeting the visions that they have for their own schools."
They're also willing to do even more, as from the little they've seen during their regular visits, many of the schools are in such disrepair they could well do with a facelift.
"Blossoms of Guyana" would also like to meet those construction needs, and is seeking to establish a permanent relationship with the Ministry of Education in bringing their plans to fruition," Bollers said.
"A lot of them really have physical constraints, because the buildings themselves are in need of repairs. And we would love to be able to help them do that. So the more funding we can get, we'd be able to oversee those projects, like we did for Houston," she added.
HERE TO STAY!
"Our focus," she said, "is education here in Guyana, so we look to support schools and we do so primarily through literacy. And that's in the form of providing books and helping schools to create libraries or with their reading rooms.
"We're here to stay, and we're very interested in seeing Guyana grow and blossom into what we as Guyanese here and abroad see as a great country."
Meanwhile, Damian Bascom, another member said while the organization has supplied story books, text books, school supplies and computers, one of its priorities is in maintaining relationships with these institutions and providing maintenance for the library projects and equipment donated in order to ensure a lasting and effective project relationship.
"One of our goals is maintaining relationships; just not come in to do a project just one time and then we go into other organisations," he said.
"Each one of those schools and organisations that we build relationships with, we want to continue to maintain those relationships: Going back, revisiting them, talking with them and bringing them support or maintenance.
"One thing we're looking at is maintaining the computers; making sure that when we develop the computer labs, they have specific maintenance-type of guidelines going on."
The organisation is also trying to meet other needs of the school, adding something else to the package each time it returns, as long as they establish successful relationships with such institutions.
While the organisation just concluded a major project, this being the refurbishing of the library at the Houston Secondary School on the East Bank of Demerara, Bascom said, "Blossoms of Guyana" itself is seeking to build a division in Guyana which will oversee the successful operations of projects established here.
"One of the things that we have recognised is that in certain schools, there is a teacher responsible for the library, versus a specific librarian that's making sure that stuff is being monitored.
"That's an added task for the teacher to be responsible for such activities. A bigger vision will be developing supporting funding for their PTA to hire or incorporate someone that works at the school to deal with the Library activities and the technical side of maintaining the computers," Bascom said, adding:
"And so we were thinking of how we can have someone to go by each school in doing that; understand what is here, what is needed, and how we can really help."