Ingredients
2 pig trotters or I cow heel
2 lbs stewing steak or brisket
8 oz pickled meat
2 lbs ox tail
¼ pt cassareep
2 red peppers
1 inch piece dried orange or lemon peel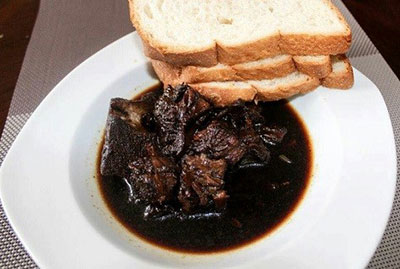 1 inch piece of cinnamon stick
3 cloves
2 oz sugar
Salt to taste
Method
1. Wipe and clean meat thoroughly.
2. Put heel or trotters in pan. Cover with water and bring to boil. Skim.
3. When half tender, add other meats, and hot water to cover. Cook for about 1 hour.
4. Add other ingredients and simmer until meat is tender. Adjust flavour for salt and sugar.
5. Serve hot.
Note: This dish develops more flavour when left over a period of days. It must be reheated to boiling point each day.
Garlic Pork
Ingredients
3 – 4 lbs lean Pork (with just a little fat)
2 pt vinegar
8 oz garlic
6-8 wiri-wiri peppers
1 bunch thyme (1 broad leaf and 4 stalks fine leaf)
4 tsp salt

4-6 cloves
Method
1. Cut port into suitable sized pieces. Steep pork in a solution of ¼ pint vinegar and ¼ pint water, then lift out using two forks and put into a large jar or bottle.
2. Pound garlic, peppers and thyme. Added to the rest of the vinegar. Add salt and cloves. Pour over pork, making sure that there is enough liquid to cover pork completely.
3. Leave to soak for about 3-4 days or longer if possible.
4. Put pork into a pan with some of the vinegar liquid and leave it to boil until liquid evaporates. The fat of the pork should also melt, supplying the fat in which the pork will fry until brown.
5. Serve hot.