…Min. Patterson unveils massive housing development plan for 2017
IN 2017, the Central Housing and Planning Authority (CH&PA) will pump $1.6B into its new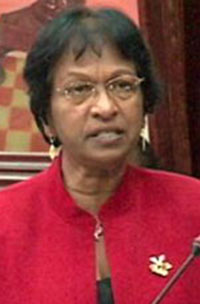 housing project which will see the construction of town houses, duplexes and apartments in key areas across Guyana, Minister with responsibility for Housing, Valerie Adams-Patterson told the National Assembly on Tuesday.
She told the House that phase one of CH&PA's new infrastructure development and housing pilot project will see the construction of town houses and single flat houses in Regions Three and Four. Additionally, some 500 duplexes will be constructed in Regions Two, Five, Six, Seven, Eight, Nine and 10 while 3,360 condominiums will be erected in Little and Great Diamond, East La Penitence and Cummings Lodge.
"Mr. Speaker, the designs of this housing pilot will take into consideration: maintaining the existing macro road layout, functional internal road and drainage networks, landscaped open spaces, dedicated walkways and parking areas and community facilities and services," Minister Patterson told the House.
This multi-billion dollar pilot project forms part of a large programme that will see billions being spent in 2017 to execute a number of housing and infrastructural projects in keeping with the Ministry of Communities CH&PA's 2016-2020 Housing Plan of Action.
In addition to the $1.6B set aside for the new pilot project, another $2.3B will be spent on 2016 roll-over infrastructural projects in Regions Three, Four, Five and Six, while $471.3M has been set aside for the Authority's electrical programme.
It was explained that electrical networks will be installed in 16 existing schemes currently without electricity. As announced by Finance Minister Winston Jordan, Minister Patterson further pointed out that $100M has been budgeted for the Hinterland Project that will foster home improvement in Regions One and Nine.
A whopping $2.5B will also be used for the consolidation of existing housing schemes, the minister told the House while noting that a percentage of the funds will be used to upgrade roads, drains and structures in low income, regularised squatting areas and other planned housing areas, in Regions One, Three, Four, Five, Six Seven and 10.
Environmentally safe
It was explained that Government is to upgrade and regularize areas that are suitable for housing and deemed environmentally safe. "The consolidation of areas will not only focus on investment in physical infrastructure, but revitalisation programmes that include social services and community development projects in keeping with the commitment to create wholesome and cohesive communities. In view of the limited resources and the need to make informed decisions, the continued investment in the existing housing areas will be informed through current, comprehensive, accurate data and financial information for each housing area," she further explained.
Exhibition
Another $13M has been budgeted for the hosting a Housing Solution Exhibition where approximately 25 housing developers will each put on an exhibition to display two model houses. This initiative is expected to encourage public participation in the building process.
Additionally, $31M will be used to strengthen the work of CH&PA; $120M for the installation, construction and upgrading of social facilities in planned housing areas; $30M for policy review and action leading to the development of a computerized beneficiary selection criteria/model, Housing Policy Document, Squatter Regularization and Relocation Plan; and $85M for institutional strengthening.
Lastly, $669.5M has been set aside to cover current expenditure such as salaries, the Minister responsible for Housing told the National Assembly. "Mr. Speaker, the Minister of Finance profoundly stated in his budget speech, and I quote 'The Authority is expected to access its own funds to undertake this ambitious programme in 2017'… a total of G$8,011,292,170," she told the House. These projects and programme, Minister Patterson noted, were prepared in keeping with the authority's medium term strategy which is embodied in its Housing Plan of Action (2016 – 2020).
"Mr Speaker the strategic direction of the CHPA which embraces the notion of creating liveable and wholesome communities has to be taken within the context of local governance currently being promoted by the government. In this regard one of the primary measures that will be adopted in its medium term strategy is enhancing collaboration with LDOs and public participation in the housing and community development process," Minister Patterson explained.
To achieve the long standing goals of expanding the supply of housing, improving affordability while ensuring access to housing and infrastructure to poor families in the context of the development of sustainable and cohesive communities, actionable policy recommendations will be realized through the development of a National Housing Strategy for Guyana, she said.
Increased taxation
Meanwhile, People's Progressive Party (PPP) Member of Parliament, Indra Chandarpal, in making her contributions during the debates, contended that government's interpretation of "a good life" is really increased taxation for hard working Guyanese.
She said within the two budgets laid in the National Assembly for 2016, there were approximately 185 tax measures proposed by the Government. Chandarpaul said instead of addressing the plethora of issues facing Guyanese, particularly the young population, the Government has chosen to compound the situation by increasing the amount of taxes to be paid.
As she continued to bash the Government over the proposed 57 new tax measures that were outlined in the 2017 budget, Chandarpaul said that while A Partnership for National Unity + Alliance for Change (APNU+AFC) Government has given its Ministers hefty increases, public servants are still awaiting the fulfilling of its campaign promise. "This increase was done without the establishment of a constitutional salary review commission which was proposed in the coalition's manifesto to review periodically, the salaries and pensions and other conditions for persons appointed to constitutional offices, including the President (and) Prime Minister," she posited.
Chandarpaul, like her colleagues, on Tuesday called for the budget to be drawn saying that the measures will result in greater hardship for the people of Guyana, a claim Government continues to deny.