THE heart of the Caribbean began beating in the small island of Haiti as the 12th edition of the Caribbean Festival of Arts (CARIFESTA) kicked off on Friday in fine style in the French-speaking nation's capital, Port-au-Prince.
Despite a late start, the rendezvous point at Djymniasuom Vensan, in the city, provided glimpses of the rich cultural costumes of the 20 participating countries from the Caribbean and North, South and Central America.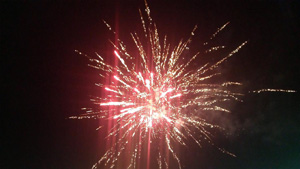 This was succeeded by a two-and-a-half hour parade along Magloire Ambrose Avenue to Cuoss Ocsde Janty Champ de Marse – a semi, stadium-like facility which hosted the opening ceremony.
Spirits of Caribbean dancers were released along this journey as the various contingents gracefully gyrated to music emanating from small trucks which accompanied the delegations. Guyana in particular, had stamped their authority even before the procession began, by magnetising the crowd after one of its male dancers unleashed his distinct potential through his art form.
But upon arriving at the Cuoss Ocsde Janty Champ de Marse, it was quite evident that Haiti had successfully shielded itself, perhaps temporarily, against the general perception of being synonymous with poverty.
A semi-decorated, illuminated grand stage facilitated the Traditional Orchestral Band of Haiti, whose members were decked sleekly in their black attire. Haitian renditions by the band provided entertainment for the sitting crowd of a few thousand, even as scores of Haitians flocked the streets to witness this historic occasion.
At this point, the Haitian faction of the crowd erupted as one of their local iconic artistes Micka Benn graced the event with his presence, performing several renditions on behalf of the host country. A kaleidoscope of colours through well-oriented fireworks, complemented his performance.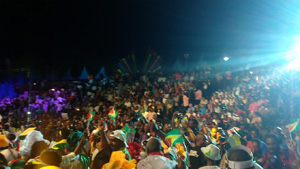 Strong sentiments aimed at pushing regional integration were then expressed by Secretary General of the Caribbean Community Irwin LaRocque, who delivered the feature address.
According to LaRocque, CARIFESTA, which embodies the spirit of community since its birth in 1972, aims to support and promote regional integration which is key to the development of the Region.
The Secretary General highlighted that this historic moment, which history will record as Haiti's first time hosting CARIFESTA, was greeted with support when the country signalled its intention in 2013 to host the event.
Describing it as one which provides a platform for the Region to strengthen its cultural identity, the CARICOM Secretary General related that the regional body has highlighted culture as an area for development and growth through the provision of jobs and the true realisation of regional integration.
However, the true potential of the Caribbean, culturally, is yet to be realised. And according to him, the Heads of Government of CARICOM remains committed in this regard – to be a vehicle for regional integration and the advancement of the Region as a unit. "Our culture plays a fundamental part in building regional integration," LaRocque stressed.
Expressing similar sentiments was Haiti's fiery President, Michel Martelly, who, even without the use of a speech, demanded the attention of the attendees with strong words of nation-building and regional advancement.
"We [Haiti] want to see you [CARICOM] more often. We want to look you in the eyes and say, we have problems, but together we can fix it," the Haitian President said, adding that CARICOM's support in assisting them to host the event is invaluable.
He, like LaRocque, reflected on the regional body's support for his country to host the event for the first time, after it was hinted at in 2013. To this end, he expressed sentiments of gratitude to all participating bodies and welcomed them to the beautiful country of Haiti.
Presentations were also made by Minister of Culture of Haiti, Joan Dithny Raton, and Culture, Youth and Sport Minister of Barbados, Stephen Lashley.
However, the highly anticipated opening ceremony ended prematurely as unexpected showers greeted the capital city of Haiti.
The event which facilitates the gathering of like-minded souls will continue for the next eight days with a Grand Market, exhibits, performances, and other cultural orientations dominating the festival.
These events will run daily from 10:00hrs to midnight. It is expected to be a fair where Caribbean craft rub shoulders with fashion shows, gastronomy, music and other creative art forms. (Sponsored by Fly Jamaica)
By Ravin Singh in Haiti