FIFTY years after its establishment, the University of Guyana (UG) recently launched its first newspaper, Splash, with the motive of capturing "a bit of everything" at its two prestigious campuses at Turkeyen and in Berbice.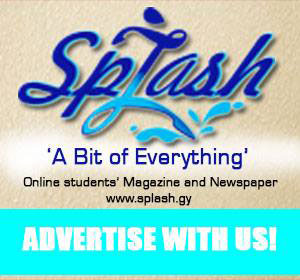 The newspaper aims to target a daily scope of the campuses activities as well as a synopsis of the neighbouring Cyril Potter College of Education (CPCE) students' life. Reasonably priced at $100, 'Splash' is a bi-weekly publication that will provide a platform for airing students' voices to help in heightening its current standard.
'Splash' was ideally an online media entity with the mentioned motive birthed by recently graduated law student, Sherod Avery Duncan. Duncan told this publication that the idea of a newspaper on both campuses had been long conceived. However, after positive feedback from his 'Splash' page he then gathered a few students who were willing to collaborate for the initiative, thereafter leading to the birth of the University of Guyana's first newspaper: Splash.
Thus far, the newspaper has caught advertisers such as Camex Restaurants Inc alongside other advertisers. Moreover, the newspaper is currently funded by Duncan among a few students who are all in hope that the pace of the newspaper will accelerate.