THE Guyana Power and Light Inc. (GPL) yesterday said that bad weather on Thursday had caused thousands of customers to be without electricity.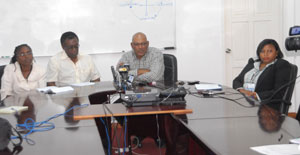 GPL Chief Executive Officer, Bharat Dindyal told the media at a press conference that on July 18 "we had bad weather in which there were high winds and heavy rainfall, as a result it caused a number of network problems in the Georgetown and East Bank Demerara system."
He noted that while thousands of customers were without power, GPL contractors and teams of employees worked late that night and well into Friday (yesterday) morning.
Dindyal said power was restored to several areas but in some instances GPL had to restore power from other sources which created quality problems and some consumers were still without power.
According to Elwyn Marshall, Divisional Director Operations, the   problem areas include East Bank Demerara and areas in the city.
He said Diamond was still experiencing some problems, and from Garden of Eden to Hope and also on the highway in the vicinity of Yarrowkabra.
Marshall added that in an effort to restore power to customers they used a feeder from Sophia Sub-Station to supply power to some consumers along the East Bank Demerara and because they have had problems with one of the feeders at Garden of Eden Sub-Station, they had to double-up on the load of another feeder.
He noted that while they were successful in restoring power to consumers, the additional load caused them to experience low voltage, especially the Guyana Water Inc. (GWI) facilities along the East Bank Demerara.
Marshall explained that GWI operations were affected because of the sensitive nature of their equipment but it was expected that by 16:00hrs yesterday they should have been able to regularise their operation through a quality supply of electricity.
Meanwhile, GPL Network Operations Manager, Shaun Hamlet who was also at yesterday's press conference, said the affected areas included Houston, Agricola, Mocha, Farm, Diamond, Garden of Eden, sections of Land of Canaan and Soesdyke, Pearl, Yarrowkabra and Herstelling, all on the East Bank Demerara.
She stated that because of additional resources gathered on Thursday, they were able to correct most of the affected areas.
Hamlet also noted that they managed to restore power to most areas but Houston, Mocha, Gafoors at Land of Canaan, Pearl, Timehri and most of Soesdyke and Yarrowkabra corrective work was being done and technicians are still working to repair some problems with severed poles, among others things.
She noted that power should be restored after which regular power will be received by customers.
Dindyal added that all customers south of Garden of Eden to Timehri up to Soesdyke/Linden Highway are served by one circuit and there were some problems. As such, about 12,000 customers were without power.
He said that between Garden of Eden and Sophia there are some issues with the 13.8 kv link that previously existed between Garden of Eden and Versailles.
The CEO pointed out that they have a circuit from Garden of Eden feeding power to central West Bank Demerara and another circuit from Garden of Eden to Republic Park.
Dindyal said the circuit from Garden of Eden to Republic Park suffered most of the problems in that section and they linked it to a circuit coming out of Sophia Sub-Station with four circuits going through South Ruimveldt to Rahaman's Turn feeding Alexander Village south to East Bank Demerara customers.
He explained that from Republic Park they have another circuit coming from Garden of Eden that feeds consumers along the East Bank corridor, north of the Garden of Eden Power Station to Republic Park, which had problems.
Dindyal stated that high winds downed poles as well as compromised structures. He noted that in bad weather poles would start to show that they are broken and will lean and he urged consumers to call GPL to make reports so that they can fix problems with resources they have available.