THE dictionary's definition of 'Masculine', an Anglo word derived from the original Latin word, 'Masculinus', is only the thinnest foundation upon which the full meaning of the adjective 'masculine' can be explored.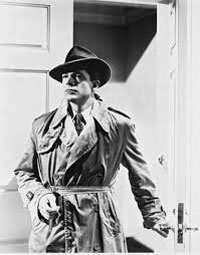 It is in the deeper creative aspects of literature and cinema that a comprehensive and practical definition of the word 'masculine' begins to emerge. It is readers and viewers who must venture to perceive the pros and cons of the term for our own mental benefit, or understanding of our personality, character, or self.
Introducing Dana
Dana Andrews is not an 'old' or 'past' Hollywood screen star, because his films were made between 1940 and 1976. What makes Dana, as well as countless other 'past' or 'classic' Hollywood personalities, still fresh and socially relevant are the linguistic and visual explorations of attitude and behavioural patterns in his screen work that can mold one's future, whether positively or negatively.
Dana Andrews mastered roles which projected personal and social values with attractive potential for male emulation and female desire. But what we need to acknowledge, especially in today's shallow definition and demand for film stars to be 'celebrities' rather than the best artists possible, is the responsive social vision of classic Hollywood's top producers, such as Sam Goldwyn (a founder of Metro-Goldwyn-Mayer, or MGM) who signed Dana Andrews to a contract with his studio in 1940, and added a distinct and indelibly valuable explorer of the masculine identity on screen.
Classic creative criteria
What was the criteria for MGM's signing of Dana Andrews? Not an academic dramatic background; not a BA in theatrical studies, or anything like that, which Andrews did not possess. On the contrary, Goldwyn and his staff of that era knew it took all types of experienced people to make good films. Experience in life was top on the list Hollywood's greatness was built on.
One's experience in life, combined with a desire to learn, to educate oneself gave Dana Andrews a persona that Goldwyn's staff saw much potential in. Dana Andrews gave up being an accountant at Gulf Oil at the end of the 1930s, and was so economically insecure, he hitchhiked to Los Angeles, became a gas station attendant, pumping gas, while, in his spare time, he studied the Arts and became involved in amateur acting.
However, it was those years of drifting from job to job, of being unemployed, of observing people from all walks of life etc, which became a specific aspect of Dana Andrews screen roles, influencing them to become outstanding and touching examples of the highs and lows of being a man in the world.
Features and first films
Another aspect of Dana Andrews which singled him out from many of the new emerging Hollywood stars was his features. He was one of those broad-nosed White males who reflected a biological strain quite visible in Italy, Holland, and Belgium especially, but also Spain and France.
This personal facial quality somehow seemed to contribute to the masculine yet considerate aspect his roles and acting exhibited. Andrews, in his first films, like 'THE WESTERNER' (1940), 'TOBACCO ROAD' and BELLE STARR' (1941), and 'BALL OF FIRE' (1942) evoked the rural country folk habits and attitudes of America, and their importance lay in exposing a raw commonness shared by diverse human cultures around the globe.
'Tobacco Road' of 1941, taken from the famous novel about such uncouth roots by Erskine Caldwell, a powerful, stylish American Southern writer, whose ribald and relevant influence can be found in some of the best 20th Century Caribbean fiction by Edgar Mittelholzer of British Guiana, early works by V.S. Naipaul and Harold Sonny Ladoo of Trinidad, and H. Orlando Patterson of Jamaica, embarrassed critics of Hollywood's audacity, who wanted to see an end to such film productions.
It was with 'THE OXBOW INCIDENT' of 1943 that Dana Andrews got the chance to deliver a quality of acting he would begin to master and project on screen, which was that of a man under mental pressure, but a man facing his thoughts and situation squarely.
In his role as one of a group of cowboys, including an Afro-American, rounded up for lynching by a stubborn dictatorial and fascistic figure, Dana's brooding unshaven characterization made him a star. The following year, 1944, would prove his promise in 'LAURA', directed by Otto Preminger, one of the most objectively thoughtful and original Hollywood works of art indebted to the inclusion of Dana Andrews.