THIS week, we felt like featuring a village with serene simplicity and a rich historical background. Musing over the features of the many beautiful villages secluded in the nooks and crevices of our breath-taking Guyana, we decided to visit Victoria on the East Coast of Demerara. And folks, our visit was quite fruitful, as you would see as you read along.
Location and history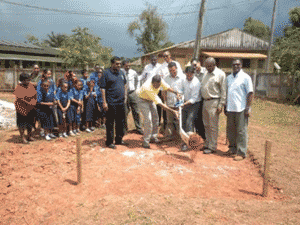 Victoria is located on the Atlantic Coast of Guyana, 18 miles east of Georgetown. It is bordered by the villages of Cove and John to the west, and the now well established Belfield to the east.
It was the first village in Guyana to be bought by the combined resources of Africans who had recently won their freedom from slavery.
The community was initially established as a plantation called Northbrook.
In November 1839, eighty-three ex-slaves from five nearby estates (Douchfour, Ann's Grove, Hope, Paradise and Enmore) pooled their resources and bought Plantation Northbrook for 30,000 guilders or $10,283.63. Each of the eighty-three owned one lot of land. After its purchase, Plantation Northbrook was renamed Victoria, presumably in honour of the English Queen Victoria, although some suggest it may have been named as such in honour of the freed slaves' victory.
Victoria is credited with one of the first codes of local government in Guyana, established in 1845. The village grew up to become one of the leading exporters of products made from coconuts and cassava.
The first church built there, a Congregationalist church named after William Wilberforce, the abolitionist, was erected in 1845 in a breezy north-easterly spot of the village, and named Wilberforce after the English gentleman who was prominent among those who strove for the liberation of slaves. It still stands to this day, and to ensure this church remains a historical landmark, several bodies, with the help of Victorians, have dismantled the former wooden building and erected a concrete structure in its place.
A memorial tablet was placed in the church honouring William Africa Baptiste, known as 'Boss Africa', who became accepted as the Father of Victoria Village. Despite his literary limitations, Boss Africa became the first school master of the village and began teaching in the Wilberforce Church. He died in 1881 at the age of 92 years.  There is a plaque dedicated to him in the Wilberforce Church.
In the course of time, churches also became places of learning. Government-programmed classes were first carried on in the Methodist and Congregational church buildings, and later in the Roman Catholic Church.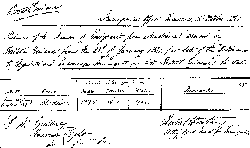 When the slaves were finally emancipated in 1838, there was an exodus from the estates. According to Historian Vere T. Daly in his work 'The Making of Guyana', the slaves, who had been paid for their overtime work during the days of apprenticeship, had saved their money by the African custom of 'throwing box". With this money, they now proceeded to purchase land, for it is only in this way that they could be free of the tyranny of the planters, who sometimes deliberately destroyed provision grounds.
Purchase of Victoria
It is now almost 172 years since Victoria Village was purchased by the former slaves of British Guiana. William Arno, in the work "A History of Victoria Village, East Coast Demerara", wrote: In November, 1839, 83 persons, including two women, bought what was then Plantation Northbrook for the sum of 30 thousand guilders ($10,284.63c). It was the first village bought by freed African slaves.
In recognition of, and in gratitude for, the part played in the abolition of slavery by the then reigning monarch, Queen Victoria, the purchasers renamed the property Victoria.
Our arrival
Getting off the minibus amidst noisy chatter from Victorians disembarking, we were immediately struck by the quite serene appearance and distinct aura of simplicity of Victoria Village.
A natural quiet seemed to envelop the entire village, even though there were a few groups liming here and there, some chatting by the roadside while others waiting for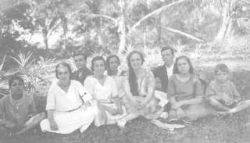 minibuses to take them to the city of Georgetown.
And that was not all, there seemed to be such satisfaction and contentment on the faces of villagers as they went about their chores or busied themselves in their little kitchen gardens. There was no fuss or bitter complaints; and many, on realizing that members of the media were in their village, made extra effort to ensure we were well received, even escorting us around the village.
As we moved around, we were hailed by young men playing cards under tamarind trees, and they seemed not to have a care in the world, judging by their gruff masculine chatter and raucous laughter.
Little girls were either purchasing kerosene oil at the Guyoil Gas Station on the Public Road, or rushing to the many small stalls to purchase egg balls, pulouri, or channa under their mothers' watchful eyes.
Everything about this village was simple and eye-catching. From its quaint little shops to its giggling breadfruit selling mothers, or merry laughter of young children chasing each other in the sun, Victoria was certainly an enticing spectacle for those who adored the simpler side of life and the quaint, quiet existence.
Developing
In years gone by, one could have recognised Victoria as a village in which poverty evidently plagued most residents. That also was further aggravated by the poor drainage and irrigation system that was causing great damage to crops and livestock owned by residents.
Today, things are not as bad, and the drainage system has been altered considerably with work done by the Neighbourhood Democratic Council (NDC) in the area and other outside entities.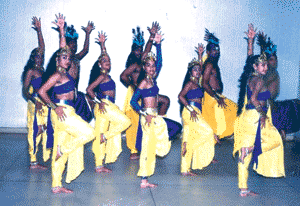 Not so long ago, through interventions of the Victoria Resuscitation Group, a koker was built through collaboration with a European Union (EU) Programme totalling some $10M, which allowed for fairly good drainage of Victoria and a few other surrounding villages.
And if one can make comparisons with years gone by, many of the small and somewhat shabby houses in Victoria are being replaced by elaborate and posh buildings these days. Villagers are now investing their hard-earned dollars to open small grocery shops and other businesses.
Government has, over time, built several bridges in the village, now allowing easier access to certain locations, and a much simpler manner of entering and exiting the village.
Several access streets have been paved with asphalt, so gone are the days of the mud tracks in Victoria when the rain falls heavily. However, there are still a few streets left to be completed in the village. The famous Side Line Dam used by many is now a proper road, and not the muddied spectacle it used to be before.

Amazing simplicity
We were indeed amazed at the contentment and simplicity of almost every Victorian. Throughout our entire visit, there was no unnecessary fuss and bitter complaints, like we may have experienced in several other villages visited.
Victorians seemed more prone to 'fixing things' in their village than on waiting on related authorities, or for miracles to happen. Chatting with several women manning small food stalls on the road corner and in the village, it was realized that these ladies were quite content with their 'self-created professions', and smiled with contentment throughout our conversations.
Ms Yonette Graham has been selling at her food stall for the past seventeen years, and her 'countryside delicacies' are greatly anticipated by persons traversing the Victoria Public Road.
Being a wise woman, she operates just at the junction of the Public Road and the access street leading into the Railway Line, since all the minibus drivers solicit passengers in this area. This location accommodates the Guyoil Gas Station and is normally the busiest joint in Victoria.
"I have been doing this job for over seventeen years; and trust me, I do enjoy it! I mean, sales can be up and down at times, but I know 'every day is not Christmas. This is what I do, and it pays me also. Our entire country has an unemployment problem, and if everyone (were to) come up with simple ways of earning an honest dollar, then it would not impact on them so significantly," she said.
Ms Wendy Osmond, another food vendor, almost wholeheartedly endorsed Graham's statements.
"This has been my profession for over eight years, and I am content with what it brings me. It doesn't get me a big fortune or anything like that, but it keeps my head above the water. I mean, all over the world people have to work to earn, and it would be a stupid thing to sit and frown about the unemployment crisis in one's country when there are so many things an individual could do to earn legally," she declared.
Football team strives despite challenges
Victoria has been known to produce some of the country's more rated sporting personalities, and its present football team (Victoria Kings) will always be remembered for its distinguished exploits in the sport. Today, this team continues to shine, despite many challenges.
Speaking to team members yesterday, we realized that they possessed an intense love for football and would continue regular practice and fun games between themselves even though they are faced with grave financial constraints, preventing them from having the associated gear and equipment.
That apart, the Victoria Community Centre Ground is in a 'run down' condition, making the football team's games and practice sessions very difficult. Nevertheless, team members are keeping the faith and hoping that, "betta mus come wan day", as they all belted out on completion of the interview.
In days gone by, sporting groups in the village would customarily host various fund-raisers to aid their group's development, and this helped a lot. Today, they cannot do that because the community centre is in dire need of repairs. This was the location used for all Victoria's entertainment activities, but the centre now has no electricity, and the building has gotten old and is disintegrating. The toilet facilities are all falling to pieces, and just a few promoters brave the odds and attempt 'open air activities' in the centre yard, providing they borrow electricity from other sources.
Coping with Challenges
Unemployment continues to plague most of the developing countries, and Guyana is no exception. Some persons wait around hoping for 'employment perfection', but not the Victorians.
Males in the village do their best to seek employment at the sugar estates on the East Coast of Demerara, while many are working on their home kitchen gardens and farms in the backlands.
Farmers normally vend their produce, ranging from cassava, plantains, eddoes, pear, mangoes, dunks and limes, to community members and commuters.
The battle
Due to the unemployment crisis, some residents have erected small cassareep factories from whence they make sales in and around the village, and also to businesses in the city.
Keeping their tradition alive
As we continued our trek through the village, the reverberating, throbbing sound of drumbeat could be heard so pulsatingly that it tugged at my heart strings… It was quite a battle to stop my hips from naturally gyrating and my feet from jumping to the catchy beat.
Rounding a corner, we saw members of the 'Fire in the Land' masquerade band in a rehearsal session, their muscles bulging and bodies twitching as they seemed to just soak up the drum beats with a far away look in their eyes.
This band surprisingly dethroned the 'Joker is Wild' band in December 2012 when it competed at the annual Masquerade Competitions hosted in Victoria by the Guyana Cultural Association (GCA) of New York.
VISITORS to the Mangrove Reserve Tour at Golden Grove/Belfield, East Coast Demerara are now being entertained with drumming, dancing and singing by the 'Joker Is Wild' masquerade band.
Based in Victoria, a village which will celebrate its 175th anniversary of existence this year, the band captures the rich history of that village in its folk songs.
It's been quite apparent that, over the years, the masquerade art form has been slipping from society, and since Victoria was one of the villages in which masquerade has been prevalent,  both the 'Joker is Wild' and 'Fire in the Land' masquerade bands are making it their duty to preserve the art form.
Although the masquerade band has been a significant feature in society throughout the year, many have decided that the art form has lost its impact and authenticity, since those participating are more interested in soliciting cash than providing fun and entertainment for spectators.
Jacqueline Waldron, head of the Fire in the Land band, noted that she would normally conduct sessions with her band members to instill the importance of keeping masquerade alive and sustaining its authenticity.
She noted that while in older times masqueraders left audiences spellbound with superb dance performances, consensus is that the traditional feature has disintegrated in terms of entertainment, sparkle and crowd appeal. She vowed that her band is more focused on presenting masquerade as it should be displayed, and is not too much concerned with the surplus it brings.
How masquerade works
Each recitation is followed by the shout of "Ban!", which is a signal to the band to resume playing the music, which usually stops to allow the vocal performance. The music is a very fast-paced rhythm played by a boom or bassdrum, a kettle or kittle drum played with sticks, and a flute (a folk instrument called a "fife" in Jamaica) which improvises but often plays the melodies of known songs, including Christmas carols.
The Jamaican jonkunnu is a much larger and more elaborate affair, and there are variations in Belize and in the Bajan Tuk Band. It is highly unlikely, however, that any of those performances would be witnessed today in Guyana, where the participants who are seen today never learnt the skills. In the past, spectators would throw coins to the band, and the art of flouncing included the dexterity of picking those coins up from off the ground in fluent movements, which must be executed without breaking the rhythm or flow of the steps and the dance.
The stiltsmen dance with high skills and balancing acts, while the mad cow (bad cow) charges and frightens the crowd.  While Victoria is known for its knowledge of masquerade skills, the more worthwhile performances at present are said to be found on the Essequibo Coast.
The Caribbean masquerades have their origins mainly in West Africa, but there are also European roots and influences, as well as forms and characteristics that evolved in the Caribbean, including several that developed out of the local social environment.
Several African roots have been identified by Sylvia Wynter, Kamau Brathwaite, Martha Beckwith and Judith Bettelheim, who provide thorough accounts of Jamaica's jonkunnu and its various roots. It was first described by Sir Hans Sloane in the 17th century as an African derivative, but by the 19th century it had accumulated several influences from the literature, legends and politics of Europe, in addition to elements arising from contact with the local society.
These various causal combinations resulted in the evolution of different forms within the tradition, some of them remarkable in their appropriation of European literary and cultural performance, integrated with African theatrical form or religious ritual and Caribbean performance.
These and many other powerful factors were dramatic characteristics of the masquerade tradition, including that of Guyana, which many symposia, workshops and exhibitions are seeking to revive.
Village gossip
Like every other village in the country, gossip is a thing that is welcome and anticipated by the majority, and we were lucky to be in Victoria when what appeared to be a fiery war erupted between a well known pastor and an extended family he evicted and demolished their home.
All through the village, we could see women and even men ganging up; and that was the hot topic on their lips. As we passed, we could see women with hands on their lush hips, with stomachs heaving as they discussed. Some talked in hushed tones while others were quite loud and careless with their exclamations of "It shoulda been me, he would ah get de time ah he life!"
Some women were seething with anger at the pastor's actions, and were mouthing, "He is too wicked! He bruk down de house… whea de people gon live?"
It appeared that the pastor had evicted the family from a plot of land he claimed belonged to him, and had demolished their home when they refused to move. The incident seemed to have incited the entire village, and many were raining fire and brimstone on the pastor.
Frolic and fun
Watching at the young children frolicking in the sun or splashing in the nearby drains made me reminisce on my childhood days.  Their peals of mirthful laughter filled the air, sometimes halted by wails of pain as one fell, bruising a knee or shin bone.
This will be followed by a busty mother waving a piece of stick menacingly as she investigated the happenings. Most times the fun- filled party breaks up and scatters in different directions as a mother begins to rain lashes on her child, who will prance and wiggle to escape the blows.
Young girls seemed contented to sit on the steps and style their weaves, while some young men rode bicycles at alarming paces through the streets, or gathered in groups, playing domino and sipping cool down (cold fruit juice in plastic bags).
On leaving the village, we felt as if we were leaving a piece of our beings behind. And with forlorn faces and feelings of regret, we finally boarded a minibus and left for Georgetown.
Little Victoria is certainly a brilliant historic village, affording a simple existence to those of simple means.