THE Den Amstel Neighbourhood Democratic Council (NDC) has been making strides for the continuous development of the village. The Pepperpot Magazine had a chat with NDC Overseer, Ciceline Creighton, who related that the NDC of Hague/Blankenburg consists of 18 councillors and its Chairman Kenton Hilliman.
Creighton has been at the job as overseer for the past seven years and his work entails the collection of rates and taxes from villagers within the community.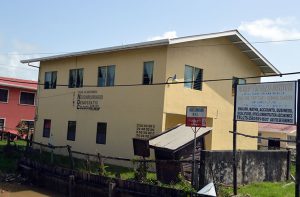 She added that they also address the concerns of villagers and try to resolve them at this level before they spiral out of control.
"Some concerns, so far, [ that we have dealt with include] illegal dumping of garbage within the village and the NDC has advised their environmental health officers to speak to persons as it regards to the proper way of garbage disposal and to utilise the private waste disposal services such as, Puran Brothers etc. since the NDC doesn't pick up garbage in this area, to Blankenburg," Creighton said.
Works
She pointed out that they have done upgrading of roads and bridges, but now they are focusing on putting culverts to maintain bridges within the village.
Creighton stated that with monies they collect they try to generally enhance the village by patching up roads, clearing drains, canals and installing and replacing street lights.
She said that this year they haven't started any new project, but they have a few on stream and with government's assistance, they will embark on some developmental works.
The NDC overseer stated that residents of Den Amstel haven't been paying their rates and taxes up to date and they need to do so for them to further develop the village.
NDCs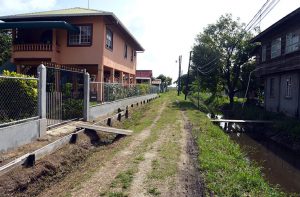 According to the Ministry of Communities website, a Neighbourhood Democratic Council (NDC) "covers a small geographic area within each region and is tasked with responsibility for the management and administration of these areas within its boundaries. Although the NDCs were established by an order under the Local Democratic Organs Act 12 of 1980, it was not until 1994 that they were actually implemented.
Councillors are elected at local government elections, which is held under the general supervision of the Guyana Elections Commission. The number of councillors elected may range from 12 to 30, depending on the size of the population of the neighbourhood and its topography. These councils operate under Local Government Act, Chapter 28:02
The overseer is responsible for the day-to-day administration of the office and assisting in the execution of the council's decisions.
The NDCs receive subventions from central government every year to assist in the execution of developmental works within their boundaries.
Additionally, each NDC collects rates and taxes from the established revenue base. These are retained by the said council and are used to provide effective and efficient services to residents.
Functions of the NDCs:
1. To provide efficient services for residents as stated in the laws. Services include sanitation, garbage disposal, road/dam maintenance, market facilities, burial grounds, abattoirs, drainage, etc.;
2. To maintain and protect public property; 3. To levy and collect rates."
WHY PAY RATES AND TAXES?
The website also informs that for communities to experience development, both local government entities and residents must work together. Local authorities provide a number of services to the residents within their boundaries as mandated by law. This provision has a cost attached and becomes recoverable from an individual with respect to his or her ownership of land or other property.