THIS week the Pepperpot Magazine visited the West Coast Demerara village of Den Amstel for its Village Focus and met some interesting folk.
Den Amstel is a village in Guyana's Essequibo Islands-West Demerara region. Sandwiched between Blankenburg and Hague, the community is located approximately 13 kilometres west-north-west of the capital, Georgetown. It has a population of about 3,000 people, who are predominantly Afro-Guyanese.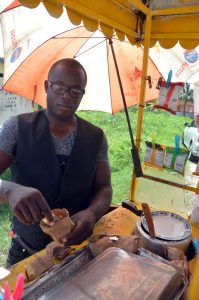 The Pepperpot Magazine met Colin Wellington, a resident who is a small business owner with a roadside stand that sells honey-roasted peanuts and packaged snacks on the Den Amstel Public Road, West Coast Demerara.
Wellington explained that he started off his own business–though small–because he always wanted to work with himself and never with people.
"I been doing this on and off for some time over the years and it is a source of income for me. I had stopped this business six months ago, but started back because I have to work and I started it again about three months ago," he said.
Wellington, an easy-going young man who was seated near his roadside stand, related that he was born and grew up in the village and from his humble and just upbringing, he thinks that he has turned out to be a well-rounded young man and credits his success to the community being close-knit.
"I started this business when I was 17 years old because I wanted to work and I didn't want to work for people, so I garnered some money and set up this business. Even though it small, it is work and I earn from it and this is what I wanted– to work for myself; so this motivates me and I have to get up every day and do this for me," he said.
Apart from this roadside stand he also does construction work as a "side hustle." The 34-year-old said that choosing the spot at which he is currently vending was easy, because it is the roadside and it is the spot where people pass frequently.
Now when it comes to the other gender, the bachelor said that he is no way shy, but is not looking for just 'any girl,' he is indeed looking for a wife. "I see girls in this village but no one has caught my eye yet. When a man looking for a woman he can get one quick, but when you choosing a wife that's different and I have that in mind, so I just can't walk around and just get a girl," Wellington said.
He stated that Den Amstel village is an ordinary countryside place with its own issues, but it is a quiet place where people live in harmony and try to make a living by being self-employed or finding work outside the village.
"We entertain ourselves by playing cricket, football and other games and we are said to be a village of athletes and Christians. We have to unite and remember we are all Guyanese. Remember two hands does clap not one. Life is about unity and we have to learn to live in harmony and cooperate for a better Guyana," Wellington said.
The village restaurant
Valarie Deverel is a woman of many characteristics. She always has a listening ear and with her friendly and kind personality, it is easy to like her.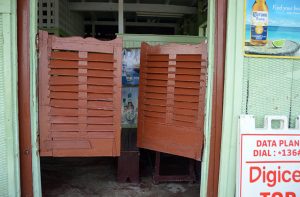 Deverel inherited her family shop that has been around for generations and has taken up the mantle as its owner for the last 12 years. Deverel told the Pepperpot Magazine that the business is open from quarter to 07:00hrs to up like around 19:00hrs.
She noted that life at Den Amstel is quiet and peaceful but there are some community needs that they wish would be addressed.
"We need street lights because it was removed from the Old Road and I think that is wrong. A lot of young women have to walk through there at nights from work and it is unlit and dangerous for them too. A night one of them get rob right through that street. We need the old road to be fixed. It is in a bad condition as well …." Deverel said.
She related that, otherwise, life in Den Amstel is a good place to reside and the place is almost crime-free and people 'live good' with each other, but for that good to continue people must work towards it.
Deverel added that most people in the village are part of a church and the youths are involved in church-related activities. The mother of two stated that her business is different because of its 'saloon-style' doors, which are a feature in most Western movies, especially in bars.