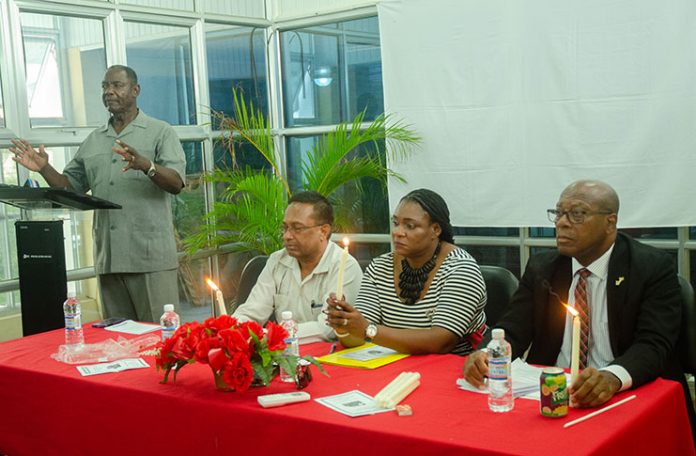 FATHER of Trade Unionism in the British Commonwealth, Guyanese Hubert Nathaniel Critchlow, was on Tuesday described as a "selfless man" by representatives of the Guyana Trades Union Congress (GTUC) and Federation of Independent Trade Unions of Guyana (FITUG).
The union representatives registered the views at an observance to mark the 61st death anniversary of the champion trade unionist at the Critchlow Labour College.
The simple ceremony saw remarks from GTUC President, Coretta MacDonald; General Secretary of the Guyana Agriculture and General Workers Union (GAWU) Seepaul Narine, and economist Hector Butts.
"When we talk about Critchlow, we have to talk about Critchlow as an institution; an
institution that allows us certain rights and benefits in the trade union movement," Narine, who is also treasurer of FITUG, said.
"We have to talk about an institution; and that institution is what we are enjoying today, enshrined on our laws. We, as the inheritor of Critchlow's legacy, have to look at ourselves to ensure that we continue to represent the interest of the workers; the interest of the dream of Critchlow."
Giving a brief biography on Critchlow's life and work, Narine emphasised Critchlow's ability to unite the masses.
"Critchlow was a man that cut across all races, and brings together in a united way the workers… While the workers were there without union, he was able to represent their interest, and he was well respected. Let us read the works of Critchlow, and let us commit ourselves to having it kept alive in our hearts," Narine said.
The event was chaired by GTUC General Secretary, Lincoln Lewis.
MacDonald, during her speech, called on all the unions to put differences aside and work together for the common good of all workers across the country.
"Those who forget the past, they are condemned for the future, so I am happy that today we are remembering this selfless son. He was selfless in all of his deeds, and unless we become selflessly committed and dedicated and ready for this battle, we would not be able to fit the shoes of Hubert Nathaniel Critchlow, or those after him," MacDonald said, adding:
"But one of the problems we have is we have lost sight of the Father of Trade Unionism. He stood there as a selfless man; standing for workers' right. But very often, we as trade union leaders; we get sidetracked and we lose sight of what we were placed there to do. We need to stand for what we believe in, and we have to be united in what we do."