THIS week, we visited the East Coast Demerara community of Bare Root (located in Bachelor's Adventure). Stories by Michel Outridge, photos by Samuel Maughn.
GIVING a background as to how the village was named, long-time resident of Bare Root, Don Sullivan, told the Pepperpot Magazine that based on his knowledge from the elders, Bare Root is a farming area and during the process of clearing the land to accommodate early settlers in the construction of houses, they encountered a lot of black sage.
As such, Sullivan said they used the dialect to say that this place is "bare root" in taking out a lot of black sage stumps; and so the name was attached to that village.
He pointed out that originally, the name of the village was "Cotton Piece," because in the olden days, cotton used to be cultivated on the land, way back when it was just canefields and farmlands.
Sullivan said Bare Root is one of the villages that played a vital role in the emancipation from slavery, so there is a lot of history, but sadly most of the elders have passed on and he can only tell certain stories.
"I wasn't born in this village, but [when] I came here there wasn't any potable water, it had just one standpipe at the head of the village. So the early settlers here would have had to go and use that standpipe," he said.
Sullivan added that back then Middle Road, Bare Root was a burnt brick dam which was later paved into a road.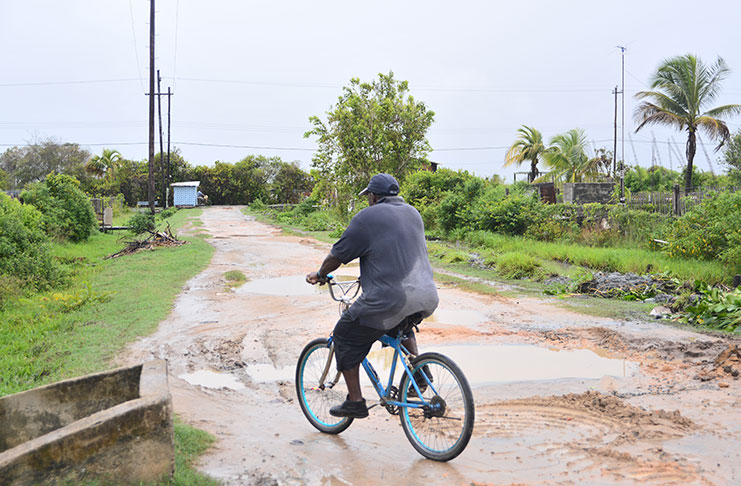 He explained that the process started when a group of villagers banded together and approached the Basic Needs Trust Fund, seeking to get the place developed and that organisation was instrumental in paving Middle Road, Bare Root.
Sullivan admitted that they then approached the previous administration in getting potable water supply and electricity and it came to fruition through then Minister of Human Services and Social Security, Priya Manickchand.
Like any other village along the East Coast corridor, he said living here can be challenging because there are a few 'bad eggs' in the village, and from time to time they have been missing livestock.
As for a police presence in the community, Sullivan stated that the cops do pass through and there are a few lawmen and women residing there thus, they have seen changes in that village.
Fighting the stigma
Sullivan stated that even though there is still a stigma attached to the community – claiming that they have been told that nothing good can come out of there – the residents have defied the odds and produced some good people.
"With the stigma attached to Bare Root – during the crime wave in early 2000 — I feel the village was infiltrated by outsiders and people were passing through doing unsavoury things; and even if you saw something back then you couldn't say anything, because it was a dangerous time," he said.
All in all, Sullivan said villagers, in general, are trying to become entrepreneurs in an effort to become self-reliant by establishing small businesses through farming or poultry rearing.
Additionally, he said that most young people are trying to make something of themselves, pointing out that a young man within the village has started a block-making business.
To top it off, some young people in the community manage two day-care facilities, so mothers can leave their children to be cared for in their absence.
Youth empowerment
Although there are no special needs nor skills training programmes in Bare Root, youths have been invited to participate in skills training in Victoria, also on the East Coast of Demerara.
He said all eligible youths will undergo training in electrical installation and Information Technology.
Sullivan noted that they have about 800 youths in different age groups, some employed and others still finding their way, but they have roughly about 4,000 Bare Rooters who are engaged in small -scale farming, livestock and poultry rearing.
Needs
Being the secretary for the Bare Root Developmental Community Council, Don Sullivan said they are always looking for ways to develop the community.
He explained that the community group which has 13 members, all villagers, are tasked with infrastructural and general development in the village headed by Chairman Brian Calder.
He noted that they are in dire need of infrastructural works since the roads are in a deplorable state.
Sullivan said Grant Road, which is practically a mud dam named after our international singer Eddy Grant, who was once a resident, should be a well-paved road which is maintained.
"I am not speaking politics, but I want to be fair because when you look at Shiv Chanderpaul Road, with Shiv being a world-over cricketer, that road which was named in his honour is well maintained," Sullivan said.
He has since registered his disappointment, adding that Grant Road should have been in a better state.
Nevertheless, as they have done all these years, he is sure that the residents will continue to work to bring a good name to their community.