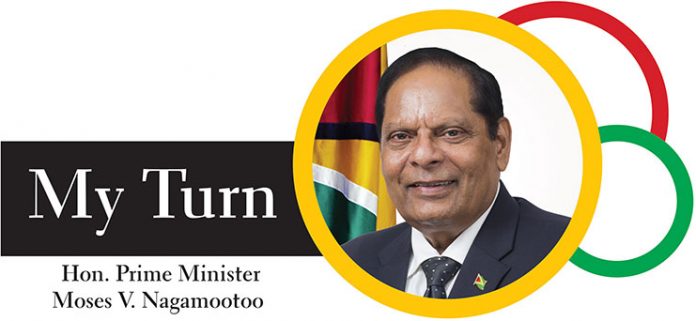 My daughter called yesterday, asking me to "look out for the flowers; they're for Mom." The red roses were intended as a surprise for my wife, the mother of our three girls, being themselves young mothers.
The bouquet was a symbolic gift for Mother's Day, but it brought back fond memories, and many reasons why I too should remember today.
I remember my Ma – Gangama – known by all as "Aunty Chunoo". She was the mother of her own twelve children, and also of countless others who were neglected in her home and nearby villages. Though she died many years ago, I remember her still – her endless work, her soft smiles, her generous heart, and boundless love.
A fisher-woman, her life was a sacrifice to her own children, others in need, and to the many women who were mistreated by drunken husbands. She was the bare-footed peacemaker/enforcer, the collective village mother, the epitome of selflessness and compassion.
Remembering today, and the tearful emotions it has brought back to me, I salute my Ma, Sita and our daughters, my sisters and all other mothers in Guyana and in the rest of the world. To you I say, "Happy Mother's Day".
4TH ANNIVERSARY
Yesterday also marked the 4th anniversary of the 2015 General and Regional Elections, when the APNU+AFC Coalition was elected to office. It was a day to remember since it was the first time in our country's history that a coalition of six political parties formed a government. Hailed as the "rainbow coalition" of all races, cultures, interests and ideologies, its election closed the era of one-party rule. Before that, in post-independent Guyana, there were for almost fifty years one-party governments disguised as coalition outfits. For several years previously, the two large parties (PPP and PNC) had tried to work their way out of the one-party cocoon in which they had been trapped. They had contemplated an inter-party broad coalition, what invariably has been styled as a national front or national unity government. When that did not happen, they tried "big-tent" politics to attract non-party "civic" or "reform" components.
Under the Guyana political system, a party does not need a majority to form the government. All it needs is a plurality. In 2011, the PPP/C, with 32 seats in the National Assembly, formed the government although the APNU, with 26 and the AFC with 7, had a combined majority of 33 seats. But the majority became the opposition and the minority the government.
PRE-ELECTION COALITION
Under our Constitution there is no provision for post-election coalition for the purpose of forming a majority government. It was in that context that the APNU and the AFC entered into a pre-election partnership agreement, to contest the election as a single slate and field one list of candidates.
It is significant to note that a pre-election coalition had eluded us throughout our history. Therefore 2015 was a break from the past. It became a revolution in our politics when the APNU and AFC agreed to team up, into what has been described in a government statement yesterday as "a united and formidable Coalition".
It must be recognised that all coalitions are fragile. If it was difficult to form, then it would be even harder to keep for any considerable length of time. But our Coalition has defied the pundits of doom. We stayed together and, as President David Granger has said, we remain stronger together.
We must remember May 11, always, since it was the entry point to our new politics of partnership and coalition-building. It has closed the door to one-party authoritarianism, one-party dictatorship. It has made multi-party/multi-ethnic politics the wave of the future.
STABLE, GROWING ECONOMY
The APNU+AFC Coalition Government has every reason to catalogue its achievements over the past four years. This is the record by which it would be judged. No one could seriously expect that the Coalition would deliver the good life within four years.
But I should repeat that the Coalition Government has so far steered the country forward as a stable and growing economy; promoted and defended its sovereignty and territorial integrity; restored respect for Guyana as a democracy in which all human rights and press freedom are protected; and supported and encouraged social cohesion among our multi-ethnic, multi-cultural, plural population.
As the statement noted: "Over these past four years, the policies and programmes of the Coalition Government have favourably impacted every aspect of life in Guyana- from the coastland to the hinterland and in our riverine and indigenous communities. No government before has done more within such a short span of time."
It is not a boast but solid fact that the APNU+AFC Coalition Government has increased old age pension and social assistance, raised the national minimum wage and improved salaries, including those for sweeper/cleaners, nurses and teachers.
FIGHTING TAX EVASION
Our Government has taken legislative and administrative steps to fight tax evasion, the illicit contraband trade, piracy, trafficking in persons, money laundering, abuse of the procurement processes, and non-compliance with requirements to ensure integrity in public life. Efforts are still underway to shut down the underground or parallel economy.
Guyanese must remember that in these years the APNU+AFC Government stepped up construction of major new roads on the East Coast, West Coast of Demerara and East Bank of Demerara, the East Bank of Essequibo and Berbice. Guyanese and foreign Commuters have all recognized the enhanced facilities at our international airports, renovated airstrips and aerodromes, and refurbished steamers that ply all of our riverine routes. The charge for bridge crossings over the Demerara River remains subsidised, and the tolls at the Berbice River Bridge has been reduced.
PLACE OF PROMISE
Since 2015 there have been incremental improvements in the delivery and reliability of electricity supplies nationwide, expansion of potable water facilities and installation of several heavy-duty pumps to reduce seasonal flooding. In the social sectors, greater financial allocations for public education, health and housing have resulted in remarkable and better results.
Recently, we have seen reports from prestigious agencies such as the BBC hailing Guyana as the next wealthiest country, on a per capita basis. The fact is that the APNU+AFC Coalition Government has brought Guyana to this place of promise by negotiating in good faith and building trust with investors.
I say with confidence that May 11, 2019 marked the gateway to new opportunities, and the prospects for a return of the Coalition, for a second consecutive term, as the best-ever Government of the Cooperative Republic of Guyana!