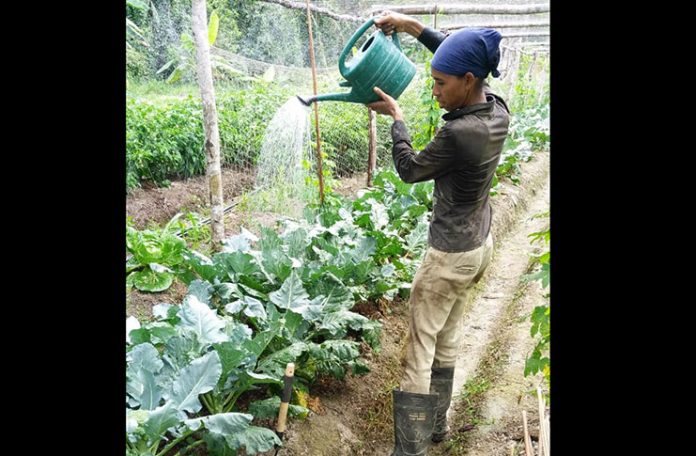 Linden woman leads the way
For Linden farmer, Myrtle Gentle, there was never a question that her children would have to get their hands dirty and learn how to grow their own food.
The 35-year-old mother of four said no other job could provide the same security as farming because people will always have to eat so there is always money to be made.
"I always insist that even if they work elsewhere, they must farm on the side," said Gentle, who grows a variety of fruits, vegetables and other crops. A couple of years ago, the mother of four travelled to Trinidad and Tobago and ate broccoli for the first time.
"I looked for the seed and brought it back and since then I have been planting and selling broccoli because everyone that buy it, loved it," Gentle said while adding that she usually jumps at the opportunity to introduce new crops in her field.
The woman is aided by her husband and children. "We plant everything. We plant cauliflower, ocro, bora, pepper, pak choi, plantains, cabbage, lettuce and all kinds of fruits." Gentle recently build a shade house in her backyard to cater for shade-loving crops like broccoli and cauliflower.
Dr. Oudho Homenauth, Chief Executive Officer at the National Agriculture Research and Extension Institute (NAREI) recently visited Gentle's farm with a team from the institute, who has been offering technical support to the farmer.
Gentle said that she does not encounter any problems when it comes to finding a market for her produce. "I use to wholesale my crops but now I go and sell them in the market which is better. I still wholesale at times."
Where Gentle lives, it is hard to spot young people working in the fields. Most farmers are middle age adults or retirees.
"It is like a norm that young people go to Georgetown to search for jobs," she said. Around the world, farmers are an ageing demographic as the sector fails to attract younger talent.
Currently, NAREI is helping a group of young people in Linden to set up a demonstration plot with the aim of promoting agriculture among youths. The Linden Quality Production Cooperative Society Limited (LQPCSL) was formed in September 2018. It has seven members, three of whom are females.