A WRITER once differentiated between the two types of poetry as being "sit-down" poetry and "stand-up" poetry. My impression was that the former type was of the kind of work that was meant to be savoured, in silence, as the reader leisurely takes his/her time poring over and interpreting each word in the piece. The latter type seemed to me to be of the spoken word kind, with rapid-fire rhymes, deliberate enunciation, and some Hip-Hop thrown in.
2221e"Musings of a Poet" which was staged by the National Drama Company of Guyana (NDC) last Saturday, 2nd February, at the National Cultural Centre did not play to either type, but rather, delivered an interesting and intimate blending of the two – in the sense that the poems were filled with the beauty, the sublime sort of artistic resonance that comes with the quiet poems that are meant to be read in the silence at night, while also being as uproarious and entertaining as the social commentary/activism-laced poems that are shouted from a microphone in front of a crowd of people. Furthermore, the production also displayed how a poetry reading can be a theatrical experience, involving all of the art forms, if the right amount of creativity, passion, and artistic vision are brought together.
The night began with people gathering in the foyer of the National Cultural Centre where a small, intimate, relaxed auditorium was set up in front of a well-lit space. Nicholas Singh began the recitations by sharing his poem, "Feel Good," which was an appropriate opener as it was a paean to writing – its purpose and its difficulty, it joys and all the heartache that comes with it. The image of Singh, sitting on a stool, bandana tied around his head, arms tense with passion turned out to be an suitable image to represent the entire proceedings, as pretty much every performer carried themselves with confidence, energy, and obvious enthusiasm for the craft.
Mark Luke Edwards is another company member who is always at the top of his game. Because he is such a well-known actor in plays, I think some people might forget that he is also an accomplished poet, having established a presence in the local spoken-word community and having won and been nominated for his poetry through the years. His performances of "Motherland," an ode to Guyana, and "Useless Hands," which was a social commentary on the plague of domestic violence were both very well-executed, particularly the latter, where he was paired with an outstanding Tashandra Inniss who played a woman in an abusive relationship.
Another actor who is known mainly for her work on the stage, but is also a very talented poet is Le Tisha Da Silva. She performed "My Silence" and "Vote of Thanks," both of which were well-received. However, there is no doubt that her performance of "Vote of Thanks" is the one that we will remember for weeks, months, and maybe even years to come – long after "Musings of a Poet," and all of the poets and actors, and maybe even the company itself has ceased to exist. This particular poem was an ode to self-love, which is such an important concept, especially for young, full-figured, kinky-haired, women of colour, in a society that seems to prioritise everything that they are not. Da Silva, taking off her robe before the audience and revealing all of her beauty, armed with a simple prop in her hand-held mirror, is one of the most artistic and poignant deliveries in spoken-word poetry that I have ever seen. It was spectacular.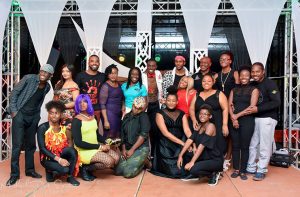 Da Silva, perhaps, is only rivalled, in terms of the performance of the night that will be longest remembered, by Ackeem Joseph who delivered Akbar Singh's poem, "Prostitute's Song," which is based on the working girls of Guyana, the local cross-dressing prostitutes about whom many legends and stories have arisen, particularly about their exploits around the St. George's Cathedral and on Sheriff Street. Joseph appears in full-drag, which, I believe (as far as I know) makes him one of the few people, if not the very first person, in Guyana to deliver a spoken word performance in drag. Wearing his fishnet stockings, a skin-tight dress, and a brightly-coloured wig, he made sure that he was a force to be reckoned with, swinging as wildly as all of the women and men in the LGBTQ community who have long been relegated to, or chosen to partake in, prostitution as a career due to, in part, being shunned to the fringes of society and being excluded from the mainstream because of homophobia. Well, I think it can be said that at "Musings of a Poet," Joseph managed to do his part to bring this downtrodden community back into the mainstream where they belong, even if it was for only one night.
Overall, the poetry at "Musings of a Poet" was generally of a top-notch quality. However, what elevated the event and made it more than just a typical poetry reading was undoubtedly the use of artistry that was taken from a variety of fields, including dance, music, costuming, and design. Truly, it was seen that everyone in the production played a vital role and that the cast was stacked with immensely talented individuals. Aside from the performers mentioned here, there were also recitations, dance, and direction by Onix Duncan, Deandra Daniels, O'Neilka Bacchus, Nirmala Narine, Sonia Yarde, Keon Heywood, Ayanna Waddell, Esther Hamer, Jonathan Hamer, Jamal Omawali, and more. Kimberly Samuels was fantastic with her use of vocals, music, and constant costume and wig changes. Lisa Adams and Al Creighton Jr. provided some of the music that accompanied the poems. Kudos to the NDC on a great production, and here's to hoping that the Guyanese public gets to see a "Musings of a Poet II" next year.