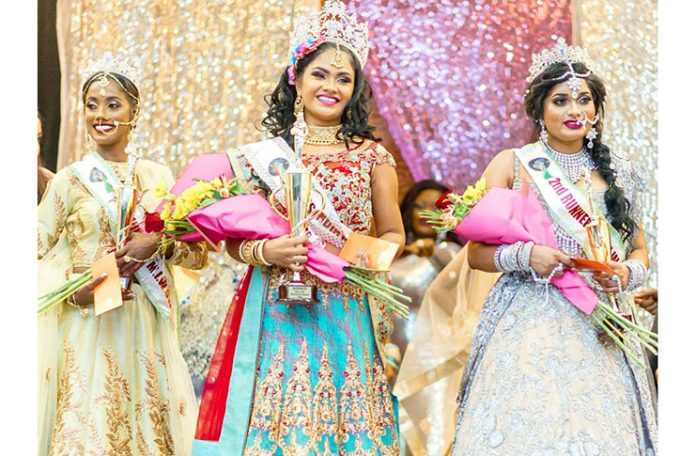 WHEN 22-year-old Shoshanna Ramdeem took part in the Miss India Guyana 2017 and didn't manage to place among the top contestants, she was crushed, but though beaten, she was not destroyed.
She could not get thoughts of the pageant out of her head, she knew she could've done better; she was determined to do better.
When the Miss India Guyana 2018 call for delegates was published, there was no question about it, she had to try again.
"I was so depressed. All I wanted to do was a photoshoot and everything that comes with a pageant because my mind wasn't settled. I wanted more; I wanted to work hard and be strong. I'm very delighted that I won," she recalled of the aftermath of the 2017 pageant.
"I knew I could have done better so I came back this year with all the dedication and commitment."
And that dedication and commitment came to fruition when last Saturday, as the Miss India Guyana pageant was hosted at the Marriott Hotel, Ramdeen found herself to be the last beauty standing on the stage when the curtains came down.
Notwithstanding how determined she was to see it through, it was still a moment of shock for Ramdeen as her name was called, when the queen was announced.
"I was like 'Oh my God, I did it!' then I said 'thank you, Lord!' I felt so happy, words can't even compensate," gushed the third-year medical student, who will now go on to represent Guyana at the Miss India Worldwide 2018 Pageant, this December, in the United States of America.
Ramdeen's natural talent, her involvement in community service, strong faith and humility make her a true embodiment of a rounded queen.
An avid reader, this 22 year old draws much of her inspiration from writers who convey real experiences, by presenting true accounts of their challenges and reveal how they overcame them. She believes that one is not necessarily born with courage, but rather, one is born with potential.
When Shoshanna is not at her home in Tuschen with her mom and sibling, you may find her volunteering with NGOs, dancing or socialising with her friends. She describes herself as a selfless, driven, committed individual; traits she acquired while a student at the Zeeburg Secondary School.
After completing her formative education, this aspiring medical practitioner entered the gates of the Greenheart Medical University where she is peruses medicine and is currently in her third year.