– for Berbice murder-for-hire
FIVE men were on Wednesday committed to stand trial at the High Court for the murder of Berbice carpenter, Faiyaz Narinedatt.
Magistrate Charlyn Artiga, at the Number 51 Magistrate's Court on Wednesday ruled that a prima facie case was made out against Orlando Dickie, Radesh Motie, Diodath Datt, Harri Paul Parsram, and Niran Yacoob.
The men were undergoing a preliminary inquiry (PI) for allegedly murdering Narinedatt between October 31 and November 1, 2016 at Number 70 Village, Berbice.
Overseas-based Guyanese businessman, Marcus Bisram, 28, was also charged, but in absentia, for Narinedatt's murder, and is currently in the United States before a New York judge facing extradition proceedings.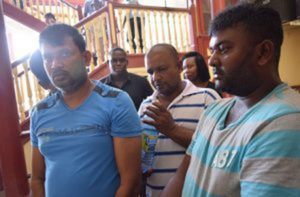 Evidence was led by special prosecutor Stacy Gooding, while the men were represented by defence attorneys, Bernard DaSilva, Sanjeev Datadin and Siand Dhurjon.
Police had initially labelled the case a 'hit-and-run accident', but Narinedatt's relatives had always been adamant that the scene was staged by persons known to them.
Reports are that after beating Narinedatt to death, his assailants placed his lifeless body into the trunk of a car, and when they reached a prearranged spot, dumped it on the public road. They then drove the car over the body to make it look like an accident.
Meanwhile, Bisram's mother and sister are currently on trial at the Georgetown Magistrates' Court for attempting to pervert the course of justice.
Shinella Indarally, 45, and Mary Anne Lionel, 25, both of Lot 171 Section 'B' Number 71 Village, Corentyne, were charged for deliberately attempting to obstruct the course of justice.
It was reported that they offered a police corporal $4M to release the five men who were detained for the murder of Narinedatt, and to cease efforts to apprehend Bisram.