ALL roads lead to New Amsterdam, Region Six (East Berbice – Corentyne) tomorrow night as Club Privilege officially opens with Naila Blackman and KI and the Band in the house.
The club is located at the recently opened Leisure Inn Hotel on Main Street, New Amsterdam and is expected to provide international standards entertainment, comfort and ambience in the ancient county.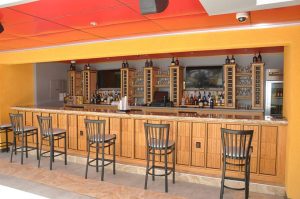 According to Keisha Phillips, one of the proprietors, the idea is to afford patrons quality entertainment in a safe and comfortable setting. To this end, they have hired a New York-based company to set up the lighting and sounds.
With the 'Baila Mami' and 'Single Forever' artistes in the house, patrons are expected to have a blast as the club seeks to set the tone for future events.
The club complements the sports bar, restaurant, poolside bar and accommodation of the hotel where the proprietors want guests to have an all-inclusive experience.
"Despite the name 'Privilege' we want the average person to be able to experience quality entertainment and services at a reasonable cost, and we will be partnering with various distributors to ensure we maintain our low prices while providing you with quality service," Phillips stressed.
She continued that being Berbicians themselves, they are cognisant of the different cultural backgrounds of the population as well as the varying genres of music that are enjoyed in the countryside, and they want to capture the essence of that experience and showcase it to the entire country.
Since their opening of the $450 million Leisure Inn, there has been nothing but rave reviews of the quality and service of the experience in a county that is starved of quality entertainment.
Today is also the official launch of the after-work lime at the poolside bar, which will see persons who want to unwind and simply want to have a good time from a long day of work, relaxing in and enjoying good music and vibes. The owners promise unlimited fun and fabulous deals.