Police are investigating a fatal accident which occurred on the Number 72 Public Road, Corentyne, Berbice involving a fire tender on Sunday night.
Dead is Mahendra Haricharran, 33, of Number 71 Village, Corentyne.
According to the police , investigations revealed that the fire tender bearing registration PVV 2027 and which is based at the Skeldon Fire Station was driven by a 33-year-old fireman of Budhan Housing Scheme, West Canje, Berbice.
It was responding to a fire at Number 51 Village when around 22:30hrs on Sunday it collided with Haricharran  who was crossing the road.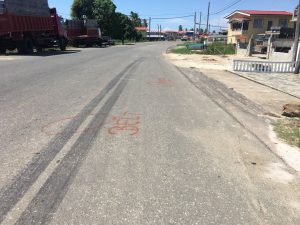 The pedestrian was rushed to the Skeldon Hospital where he was pronounced dead on arrival.
The driver, who has passed a breathalyzer test, is in police custody assisting investigations.