– if only management would do its job
THE building is in disrepair, the grounds are overrun by grass and bushes, and the outdoor toilet facilities are a mess.
But all is not lost; there's yet hope for the Ogle Community Centre, former Assistant Treasurer, Khemchandra Dindyal said a few days ago when the Guyana Chronicle caught up with him.
Six years ago, he said, the place was a veritable swamp, but with his engineering skills and some 89 truckloads of earth, he was able to bring it back to some semblance of order.
Before that, Dindyal said, the place was a haven for 'junkies' and delinquents, but with the formation of a committee, things slowly began to look up as the facility was rented out from time to time for the hosting of sport activities.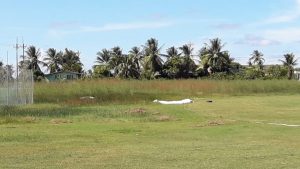 From then on, he said, everything was going well, since the money the committee made was used for the intended purpose, which was maintaining the place. Back then, he recalled, the grounds as well as the building were well kept.
He was almost like the groundsman, Dindyal said, as he made sure the place was kept spick and span. Things, however, started to fall apart after he opened his own business, and could not spare the time to attend to both places.
Now it pains him to see what has become of it under the management of the current committee.
"The committee members used to be out there to ensure things are done," Dindyal said, adding:
"But look at the place now; they have failed to deliver! Garbage is everywhere; nothing is done and monies collected are used for 'sporting'! As such, I stopped signing cheques, since there is no transparency."
Dindyal said the committee makes as much as $127,000 per month from renting the facility's gym, its canteen cum bar, two houses on the grounds and another facility.
"The place is also rented out to Deejays on weekends, but only God knows what the committee is doing with all that money."