A FAMILY of six is now homeless after a mentally-ill relative reportedly burnt their Section 'D' Sophia home down late Tuesday afternoon.
The suspected arsonist, identified as Orlando Williams, was later taken into custody at the Turkeyen Police Station. When the Guyana Chronicle arrived at the scene the inferno was already contained by fire fighters from the Guyana Fire Service.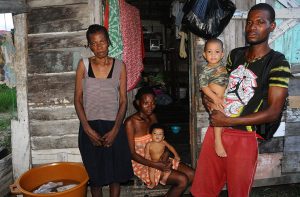 The fire started at about 16:00hrs and quickly gutted the wood and concrete structure.
An occupant of the home, Maria Charles, explained that she was a few houses away when she was alerted about the fire from persons in the village. Charles, who is the mother of an eight-month-old baby, alleged that the home was purposely set alight by her older brother, Williams, who is reportedly mentally unstable.
Charles explained that the family lost everything and was unable to save any valuables from the home. They are still counting their losses. "His head is not right… he said it's his father house and he burnt it," said the distraught woman, adding that that her brother had threatened to kill his other sister, who was also living at the home with her daughter.
However, due to the constant threats the sibling moved out from the family home.
"His head ain't right, you never know what he can do," Charles lamented as she added that at the time of the fire only Williams was home. Coming home to the devastating news was another sibling, Fizal Charles who was left with only the clothes on his back since he was away at work for the day. " Everything burn…we ain't manage to save anything," the man explained as the family sat at another relative's home seeking shelter as they are left without any money, clothes or documents.