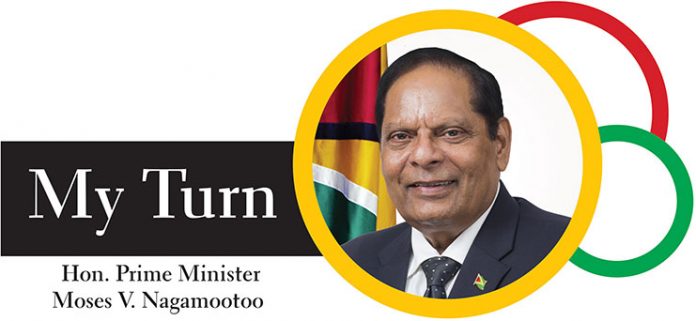 SECTIONS of the local press have reported under similar captions: "Venezuelan exodus approaching crisis moment". A United Nations migration agency was quoted as urging Latin American countries to ease entry for Venezuelans, "more than 1.6 million of whom have left since 2015". (Kaieteur News, August 25)
Not surprisingly, with apparently nothing better to say or do, the opposition leader was a few days earlier fuming about acceptance of Venezuelan refugees by the Guyana Government. It was a vintage piece of pure undiluted hypocrisy for him to oppose temporary settlement in our sovereign and secure border areas of Venezuelans, who are coming to Guyana as refugees. Their admission is being done on humanitarian grounds. If he had his way, he once stated, he would cede to Venezuela Guyana's territory, which he ignorantly (?) reduced to a mere "Channel", to appease the aggressor.
While he was rattling away against Venezuelan refugees, his surrogate newspaper was pumping speculation that under the coalition government things could go bad, and we could send "another wave of Guyanese refugees into America". (Guyana Times, August 24).
PEJORATIVE LABEL
The pejorative label, "Guyanese refugees", is something that we seemed to have forgotten over time. I was, however, reminded of it by my close friend, Ralph, when we met recently in Iowa. He recounted to me, with apparent disgust, comments on social media by a Florida-based Guyanese that the American authorities should deport all illegal immigrants.
I asked him to explain and this is what he said in a nutshell: many Guyanese, who were once affiliated to the People's Progressive Party (PPP), in applying for non-immigrant visas had declared that they were NOT members of a communist organisation. The PPP, he reminded me, has been a member of the International Communist Movement since 1969. Members of the party had subscribed to its ideology of Marxism-Leninism (Communism). Though it seemed far-fetched, he opined that should files be dug up, many Guyanese could find themselves in trouble for uttering false declarations, which is a federal offence.
There is a flip side to that scenario. While I was in private practice as a lawyer, I was approached by relatives of many Guyanese who had settled in Canada and were seeking asylum, for affidavits to say that the asylum-seekers had been PPP members. I had advised the party then not to issue any such statements.
The affidavits were needed by Guyana-born lawyers, who were making a "killing" from the Guyanese refugee cases, that the asylum-seekers would face political persecution should they be deported to Guyana. I had seen cases where false and exaggerated claims were made about the army digging up temples for arms and ammunition, and about persecution of persons who had been found in possession of prohibited essential food items, such as potatoes and split peas, even for personal consumption or for religious rituals.
PLIGHT OF REFUGEES
So, Guyanese cannot be unaware of the plight of refugees which is why I am proud to be a member of an administration that responded with genuine humanitarian concerns when the trickle from Venezuela started.
I recall when Minister of Citizenship Winston Felix visited Guyana's border areas where stranded Venezuelans were reportedly eating from garbage cans and sleeping virtually in inhabitable hovels. Ministers in the Health and Indigenous Peoples' sectors went to locations where there were cases of measles and polio – diseases that have been eradicated in Guyana. They rendered prompt assistance. Our government provided safe sanctuaries.
Guyana has tried to regularise the inflow by admitting Venezuelans who had passports, and tracking cases of suspected trafficking in persons. We were accused of allowing entry to those with only ID cards, which was not the case; but it is significant to note that a close ally of the Maduro outfit, Equador, is accepting Venezuelans with ID cards only. Peru, Colombia and Bolivia have all eased restrictions.
I had said in these columns and elsewhere that Guyanese fraternally embrace the Venezuelan people and while we do not interfere in the internal affairs of their country, we remain kind and hospitable as a friendly neighbour.
DESPERATE SITUATIONS
It is not easy to explain how it feels to be in need, in desperate situations. I still vividly remember being approached many years ago by a Guyanese woman at the Barbados airport. She politely asked me to buy her some snacks. I gave her a few dollars instead, and left to board the flight. Whilst seated in the plane, I saw her in the aisle walking towards me. She had a broad smile on her face. Around her neck, hanging like a pair of boots, were two hefty loaves of bread. That has been for me a tear-jerking but unforgettable face of need.
Elsewhere in the Caribbean, Guyanese who did not settle as economic refugees, were doing "suitcase trading". In Trinidad, even while I was a government minister, women would approach me with a humble request: "minista, book in a piece fu me, nah". They would have a heap of jute bags full with trinkets and confectionery that would be sold in Guyana, if only they could get them on a flight.
During the hard times, Guyanese scattered almost everywhere. I couldn't believe meeting during the 1980s a Guyanese in remote Yemen. He was working in a posh hotel. But at the risk of losing his hands or head, he sold whiskey on the sly, and delivered to rooms cheaper than the duty-free prices, which he received from diplomats from an unnamed Asian country to that liquor-free state.
On one occasion at the Paris airport, I saw two Guyanese women as they juggled with boxes at the check-in counter. It seemed that they could not carry the boxes as extra cabin baggage. One of them suddenly opened a box, took out a pair of light-green shoes with heels the length of an upturned bottle, and hurriedly put them on. She stuck her slippers in her handbag, and took off with her companion, also in high heels, to catch their flight. They literally held on to each other as walking on those new spiked heels were like balancing on an overhead tightrope. Those shoes would be placed on the market somewhere, as high-priced exotic footwear at a time when Guyanese scoured the world for a good deal.
We knew hard times and though we didn't pride ourselves in being called refugees, many huddled in cramped basement overseas, thankful for the kindness of relatives and the generosity who offered jobs to those without proper documentation.
GUYANESE SUCCESS STORY
Wherever they went, and whatever they became, Guyanese made a success story of themselves. They became achievers from hard work, whatever the nature of that work.
Once while I was in Toronto, as the train screeched to a halt, I heard a sweet voice above the murmur: "Ayou walk good gal!" I looked ahead and saw a woman I recognised as Guyanese. I approached her and learned that she came from Belvedere, and that her mother had sold fish with Ma, whom she endearingly called "aunty Chunoo".
Though her story was no different from many asylum-seekers, she did not lose her Guyaneseness, her distinct sense of humour, her feeling of gratitude. Guyanese have been helped by strangers, and being kind in turn to others in economic hardship, be they Venezuelans, Cubans or Haitians, is a small token indeed for the kindness of others towards us.
We cannot curse the bridge that we ourselves had crossed, either to Venezuela, Suriname, Brazil and beyond our Atlantic shores.
© August 26, 2018