The authorities at the Lusignan Prisons have seized various quantities of marijuana among other items following separate incidents on Sunday.
Director of Prisons , Gladwin Samuels related that around 1430hrs on Sunday, a man arrived at the prison checkpoint to deliver clothes and footwear for a prisoner to attend court on Monday. He said during a routine process to book  the person delivering the items , the footwear appeared unusual.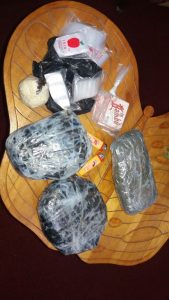 He said the man , after realizing something was amiss, took-off after grabbing his national identification card. The officer on duty noted the man's description which would be passed onto the police. Some 108 grams of suspected marijuana and four packets  of cigarettes were seized.
In an earlier incident , prison officials while conducting checks outside the prison , observed a black bag in a drain around 0930hrs on Sunday morning. A quantity of marijuana , lighters and other items were found inside the bag.
In recent weeks , despite regular searches, prison wardens kept unearthing various forms of contraband, including cellular phones, marijuana and local wine, along with other illegalities at the prison.
Minister of Public Security , Khemraj Ramjattan has noted that technologies, raising of salaries and professionalising the Guyana Prison Service will have to be reviewed as ways to combat what he deemed incessant and rampant corruption occurring within the prisons and which he noted is fueling serious security breaches.