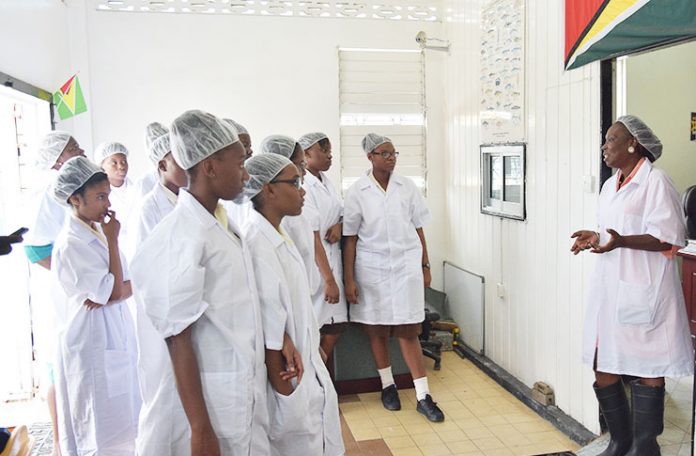 …home economics students urged by Global Seafoods Distributors
A GROUP of pupils from the Tutorial High School Home Economics class on Tuesday morning had the opportunity to tour Global Seafoods Distributors Inc. at Lot 8 West Ruimveldt, Georgetown, where they got a first-hand look at the types of fish available locally, cuts of fish, preservation and the processing of fish.
The guided tour was conducted by no other than Chief Executive Officer Allison Butters-Grant, who gave the 13 students a 'pep talk' before the actual tour of the facility.
She told the students that the fish processed at the facility was caught directly from the Atlantic Ocean by fishermen and their job was to add value to the product for resale.
Butters-Grant stated that the fish was prepared, processed and served from the seas to the plate and those included fish nuggets, fillet, steak, whole gutted and pre-seasoned, pan-ready fish products.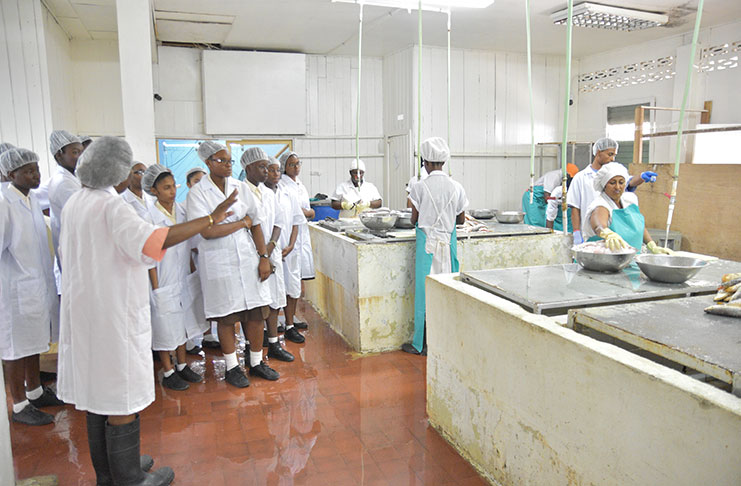 She said, "Since we 'eat what we sell,' all of our products are backed by a high standard of processing."
Butters-Grant pointed out that as Global Seafood Distributors continued to build capacity within, they sought to entertain learning institutions, gearing students with a knowledge-sharing advantage in an area in where there is so much oversight and associated stigma.
As such, she accepted a request for a tour of the facility, during which students were exposed to the fish-processing industry where supply and value chain were involved.
The CEO added that they were the only business to have an in-house salted-fish facility where the fish is dried indoors instead of outdoors exposed to the elements.
As Butters-Grant led the tour into the facility, she provided step-by-step information on how things were done from scratch. She encouraged the group to be receptive to reading and educating themselves in preparation for the future.
Butters-Grant said her business was certified and all her employees were suitably trained in good practices to provide quality products for both local and foreign consumption.
Meanwhile, Home Economics Teacher Nordis Clarke told the Guyana Chronicle that she made a request to Butters-Grant for the tour in an effort to sensitise students on how things were done at the facility and all objectives were achieved, since the request was granted.
Clarke added that she was pleased that the students got the opportunity to see how fish was processed before it is seasoned and packaged.
The pupils said that they had benefited from the tour of Global Seafoods Distributors Inc., and they were 'now in the know' as it related to fish-processing, etc.