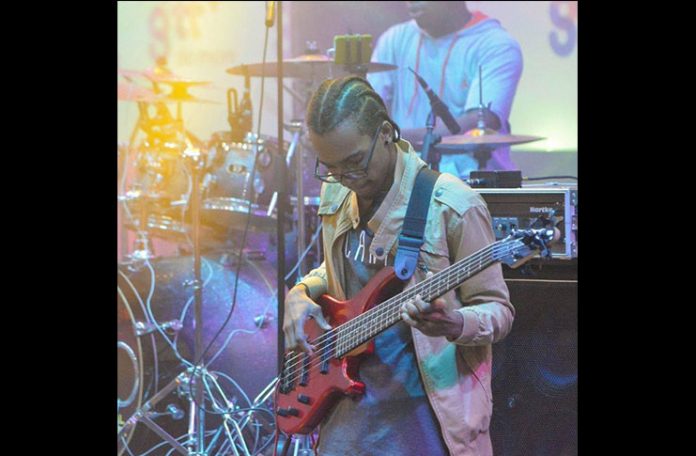 WHAT do you call someone who is a music teacher, a musical director, a studio and live performance musician, and a 'med' student? Well, he goes by the name Rondell Glasgow.
Glasgow is 18 years old and juggles his love for music with his pursuits in science. By day he's a student at the Greenheart Medical and at practically any other time, you'd find him "jammin'",
"People always ask me how I manage it all but I love what I do and so it never really becomes a burden to me," he said. "It's really about being able to discipline yourself physically and mentally."
The genesis of his interest in music, however, dates back to 2012, when he had just joined Queen's College. Musical theory was offered as a subject in school but the young man, so enthusiastic, joined "music lessons". According to him, these lessons taught by his teacher, Leon McDonald provided him with his musical foundation.
"Unlike most of the other subjects that I studied growing up, music never felt like one that was a burden or one that I was forced to do. Instead, it felt natural and almost like I was born to do it," Glasgow said.
Music, therefore, became an integral part of his life because whenever he found school or life, in general, becoming overwhelming, it became "therapeutic"; it was his "retreat".
But perhaps by fate, at the lessons also, Rondell met two senior musicians: Christian and Jeremy Sobers, who assisted his learning process and exposed him to the guitar. Since then, music and Rondell have been inseparable.
Later, Christian and Jeremy Sobers founded a Music School called Music Unlimited, and Rondell began his career as a part-time music teacher.
He has also been involved in numerous live and studio events. One of his most memorable live performances was perhaps with his band at the 'Hope is Rising' concerts and as a studio musician. One of his better projects, he recalls, was working on Samuel Medas's 'Royalty' album.
For many, med school is already a gargantuan challenge, that coupled with the demand of one's talent is something else. And, sometimes, Glasgow finds himself amidst the clutter of school and work, where the workload might be overwhelming.
In these times, he noted, "I sit quietly for a while and pray for guidance and understanding to manage the workload. I believe that God would never give me more than I can handle." And even when both his school and work drop a "mountain of assignments" on him all at once, he posited that he always gets his work done efficiently and effectively. "My desire to help people is what sustains me on both my medical and musical path," he said.
According to him, he's most passionate about helping people and while he has a few more years before he can diagnose and treat, he uses his music as therapy.
"Music has a very powerful impact and influence on people so I try my best to always play clean music (in most cases, gospel) as I find comfort in knowing that my talent is being used to influence and change the lives of people for the better," the young musician said.
Ultimately, he just wants to see the local music industry grow and for him, sharing his knowledge and encouraging more people to learn music is one way of getting that done. It doesn't matter what it takes, he will be a positive force to be reckoned with.