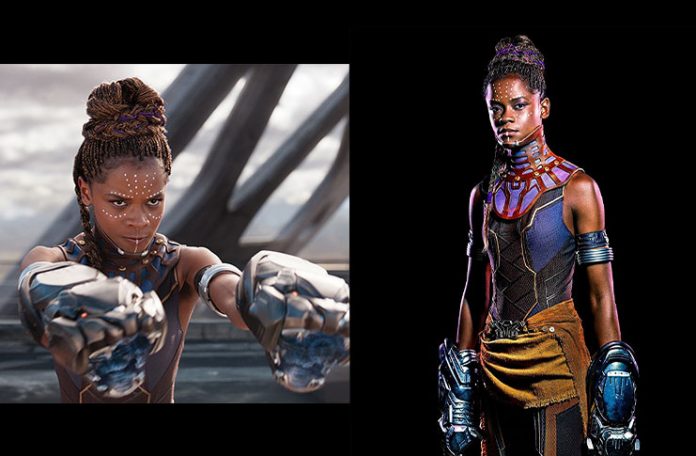 – Black Panther Star Letitia Wright happy to connect to Guyanese roots
MARVEL'S Black Panther will hit theatres in the 'Land of Many Waters' on February 22, and the anticipation is high among Guyanese, not because they're major fans of comic books/superhero movies, but because one of their own, 23-year-old Letitia Wright, will star alongside Chadwick Boseman in what is projected to be one of the best-selling movies for 2018.
Migrating to London, England at age seven, Wright, 18 years later (2011), appeared in an episode of the British television series 'Holby City' and in the same year, starred as Nyla in the movie 'Victim', proving that she followed her childhood dreams of becoming an actress.
But after several appearances on the big screen, including a cameo in 'The Commuter' with Liam Neilson, the Guyanese actress finally landed her first major role, starring as 'Shuri', the 'Princess of Wakanda' and will fight alongside her brother, The Black Panther (played by Chadwick Boseman), the King and protector of the fictitious African nation.
In the Black Panther, one of Marvel's most popular comics, Wright will rub shoulders with Michael B. Jordan (Killmonger), Forest Whitaker (Zuri), Angela Basset (Ramonda), Daniel Kaluuya (W'Kabi), Lupita Nyong'o (Nakia), Danai Gurira (Okoye) and a host of other stars in the predominately black cast film.
Since learning of Wright's Guyanese roots, locally, the actress has been gaining popularity and the Black Panther has received resounding calls for support, simply because of the actress' background; something she says is an overwhelming feeling.
In a sit-down with Former Miss Jamaica Soyini Phillips, published on Tuesday (February 6) on her 'Rolling Out' YouTube channel, Wright, when asked about her role in the Black Panther and garnering support from people in her home country, stated: "It makes me feel really proud that as a young Guyanese woman, people are being inspired and just for them to also know that I 'rep' Guyana wherever I go.
"I'm really happy that people are supporting…I just hope that it continues to inspire people and it's an honour to do that for my country," Wright said.
She further added "When I grew up in Guyana, we didn't have an acting industry, but to be able to now do it, and for anybody back home that will say, 'I've always wanted to be an actor, and Letitia did it', just to know that they can do it too."
The movie will actually be out on February 16 in the USA, but good luck in trying to get a ticket. It was reported that in its first 24 hours alone, the film – directed by Ryan Coogler – overtook Captain America: Civil War, to sell more advance tickets than any other film released in the Marvel Cinematic Universe.
In fact, so hectic were the opening day sales that one of the film's stars – 12 Years a Slave Oscar-winner Lupita Nyong'o – failed to acquire tickets.
In Guyana, movie-loving fans can pre-order their tickets at Giftland's Caribbean Cinemas from February 20, while the Princess Movie Theatres said the film should hit their cinemas on February 23.
'Black Panther' is ranked as the fifth best Marvel movie ever made (according to USA Today), coming in behind The Avengers, Captain America: Civil War, Guardians of the Galaxy and Captain America: Winter Soldier.
The Rolling Stones Magazine describes The Black Panther as someone with the arrogance of Shaft, the coolness of Obama and the hot-headed impulsiveness of Kanye West.
In the black communities, especially in the US, the Black Panther movie is seen as revolutionary, much like 1998's Blade, which was the first in a series about a leather-clad, mixed breed vampire hunter played by Wesley Snipes.