–Top Cop says
ACTING Top Cop David Ramnarine has said that there's no ulterior motive in making former crime chief, Senior Superintendent Wendell Blanhum deputy commander of 'A' Division.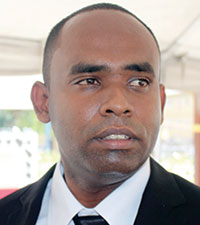 "It is nothing unusual; Blanhum's re-posting is also not without precedent," he said.
"Blanhum's performance as crime chief is nationally known, and when he was going on leave a lot of people thought he was kicked out and that was not necessarily so," Ramnarine told the media on Tuesday when pressed about the issue.
Earlier into the conversation, he had said: "At this point in time, we have launched several initiatives for the Christmas policing arrangement, and you don't want to chop and change.
"I must say that, for example, there is an assistant commissioner in charge of crime… For example, I know you want to get to the issue of Senior Superintendent Blanhum who is a senior officer.
"I want to add that Senior Superintendent Calvin Brutus was the Commander of 'C' Division; he was on leave and has resumed, and is presently holding as second-in-command of Operations."
As he went on to explain, at one point Senior Superintendent Stephen Mansell had held for Commander Brutus when the latter was on leave, and that he has since asked him to continue as the Commander of 'C' Division until perhaps after the Christmas season is over.
But in the interest of clarity where the reassignment of Senior Superintendent Blanhum is concerned, Ramnarine, a former crime chief himself, confirmed that for now, he is out of the Criminal Investigations Department (CID). And while he did not indicate whether or not the transferral is permanent, he did say, somewhat cryptically, that since there's no telling what changes next year may bring, one should brace oneself for the unexpected.
He, however, conceded when pressed that there's no denying that Blanhum is indeed one of the more successful crime chiefs.
Asked how he felt about no longer being at the helm of CID, Ramnarine simply said that the nature of law enforcement doesn't allow him to make such decisions.
"I am a professional, as well [as] Blanhum," he said, "and the officers have proven that thus far. And I will leave it at that."
According to a statement issued by the Guyana Police Force, Senior Superintendent Blanhum, who was crime chief when he went on leave, has been temporarily reassigned as Deputy Commander of 'A' Division (Georgetown-East Bank Demerara), and is working under Assistant Commissioner of Police, Marlon Chapman who is the commander.
The statement further said that Assistant Police Commissioner Paul Williams, who was Commander of "B" Division (Berbice), will continue to act as crime chief.
Back in September, Commissioner Ramnarine was quoted as saying:
"Blanhum requested to proceed on another short period of annual vacation leave, which was approved, taking into account that it was again deserved and that he, as well as other senior officers, will have to resume duty in time for the commencement of the police's Christmas period; a period where the intensification of operational and preventive law-enforcement strategies are paramount."
The Commission of Inquiry (CoI) into the alleged plot to assassinate President David Granger had called for Blanhum to be replaced, reportedly due to poor leadership and questions surrounding his role in the successes in solving crimes under his watch.
The Paul Slowe-led CoI chided Blanhum for his failure to properly supervise the investigation, though so instructed by the acting commissioner; for allegedly lying to Ramnarine; not conducting due diligence on a report containing factual errors sent to the National Security Council (NSC); neglect of duty; and insubordination.
"Blanhum should be replaced as crime chief and reassigned in order to gain command experience," the report recommended.
Blanhum was the first person in the Guyana Police Force (GPF) to receive information in relation to the plot to assassinate the President. He received a call from the Ministry of Public Security informing him that Andriff Gillard had made the allegation on March 29 this year.