Santa/Aratak villagers driving community's tourism
By Ravena Gildharie
COMMUNITY-based tourism has blossomed in Guyana but it is mostly led by private individuals and tour companies, often distanced from the areas they showcase. Recognising that they were not gaining fully from such ventures, the residents of the Santa/Aratak village in Region Three embarked on their own tourism drive by developing an initiative which was led by the village council.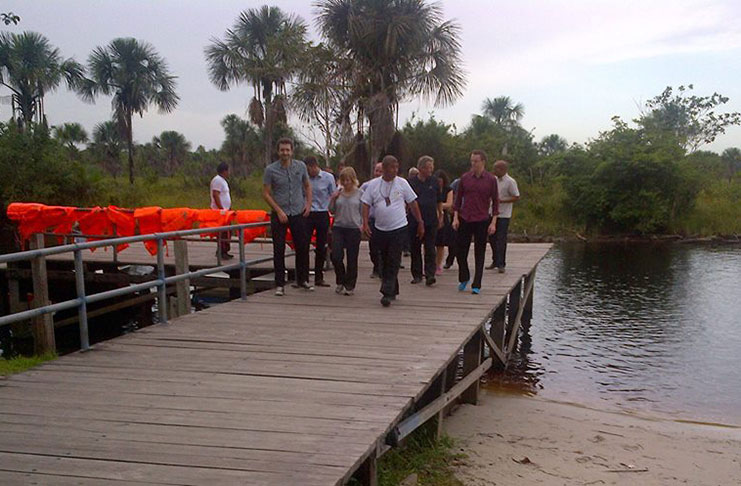 Devised as a community-led approach model to cultural and heritage tourism, Santac Tours and Travel is fully owned and operated by the Santa/Aratak Village Council. It aims to promote and preserve indigenous knowledge and skills while boosting residents' livelihoods and enhancing individual professional development, especially in the tourism and hospitality service.
While Toshao, Aubrey Samuels, oversees the entire operation, Senior Councillor and Treasurer, Juliet Gomes, is the appointed Tourism Coordinator, who organises the tours
and ensures that there are adequate cooks, housekeepers, boatmen and guides during each tour. There is also a special tourism committee involving teachers and other prominent villagers, while resident, Michael Patterson, serves as a technical advisor.
"Santa Mission remains an easy access tourism destination for many groups of visitors to the country, but (it) had struggled to fit into the wider national tourism drive due to the fact that the visiting groups usually booked directly with the more established tour companies, some of which just offer a side tour and stop-over as part of their overall package," Patterson told the Pepperpot Magazine in an exclusive interview.
"Even the government ministries and the agency responsible for tourism development usually prefer to use/book directly with the more established operators, making it very challenging to contribute meaningfully," he added.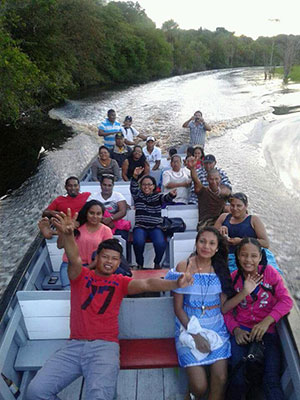 Situated several miles up the Kamuni Creek, a tributary of the Demerara River, Santa/Aratak is an Amerindian reservation currently home to over 350 residents, who depend mainly on lumbering, handicraft and tourism. It is promoted as a 'peace and back-to-nature' destination given the serenity, surrounded by the cool black waters of the Kamuni and Pokorero Creeks.
"The huge silk cotton tree or as the locals call it 'Kamaka Tree' stands tall up the white sandy hill of the Mission, overlooking the savannah and 'Itea' palm forest. Bird life is bountiful and gives persons who are keen on nature and wildlife photography an easy access opportunity," highlighted Patterson, who hails from one of the largest ancestral families of Santa Mission. He is also co-founder of Guyana's first indigenous restaurant, Tuma Sàlà based in Georgetown.
Marketing
According to Patterson, the community initially planned to establish a Georgetown office and have a representative there to market the venture, with sales letters and fliers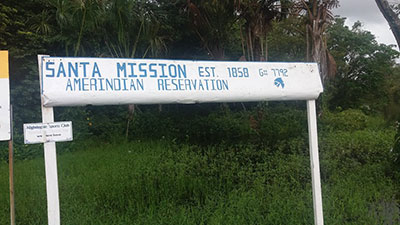 distributed among tour agencies, schools, government ministries, churches and elsewhere. Activities promoted include day and overnight tours, fun days, which are ideal for family or staff, traditional hunting/fishing sport, Amerindian Heritage celebrations, traditional craft festival and exhibitions, church excursions and educational expeditions, boat rides and family reunions.
"Tourism revenue is seasonal…while community residents would like to see immediate returns on this investment, the challenge remains to demonstrate that this tourism venture will succeed," Patterson pointed out. However, he noted that there are two resorts that border the community and which enable craft producers to market their handicraft year round.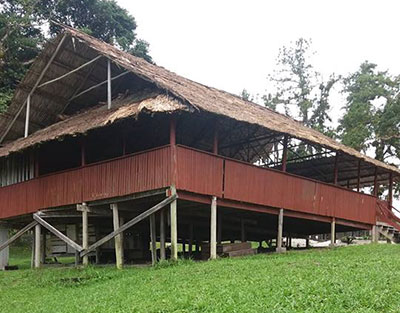 Employing a full-time advertising team to continuously market the community as a tourism destination is also another setback. Currently, Patterson volunteers on a part-time basis to promote Santac Tours and Travel, using mainly social media. However, he underscored that "this will need to change in order to make this initiative a more successful business enterprise."
There are plans to use the village office as the new operating location and to hire and train a full-fledged tourism team to implement marketing and drive the initiative forward. The community intends to fund this operation from the revenue it gets from supporting nearby resorts.
It is envisioned that former residents would return to the area to invest and/or built retirement homes as the community develops and its tourism booms.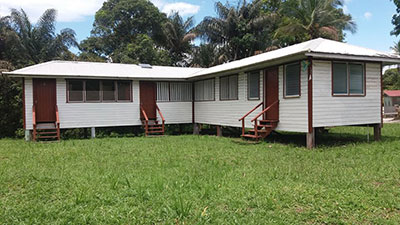 This summer, the community hosted the Patterson Family Reunion, the first of its kind staged in the village and an event that attracted over 100 members from several generations, including people from the Diaspora and locations throughout Guyana. It was held from July 14-16 and engaged members on a community tour to the burial site of the Pattersons' fore parents, a cultural show and bon fire, family devotion and spiritual upliftment, introduction to the Patterson Family Tree and the history of Santa Mission as well as other social and bonding sessions.
Family reunion
Patterson said the hosting of a family reunion in the village had long been just an idea, up until last month.
"The community was built on the sacrifice and commitment of our foreparents…The passion to make this a reality this year was based on the fact that the Village Council had requested assistance from me in documenting the history of Santa/Aratak Mission. As such begun to unfold, the essence of our fore parents and their contributions toward the development of this community further endorse the idea to become a reality," Patterson explained.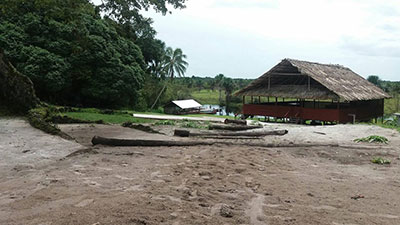 The response and support, he said was tremendous as long-lost relatives and old friends got the opportunity to catch up and rekindle their friendships. It also educated members on their ancestors' contributions to the community's existence and development and reaffirm the importance of Santa Mission's rich history and cultural awareness for both older and younger generations.
"The long term objective as a family from Santa Mission is to preserve our rich history from the community. It was mentioned that our great grandmother–Mathilda, had a pot that was never out of meat and that it was shared with visitors and guests and always had to give. That in itself speaks of the rich cultural value of our family," Patterson said.
He noted that while there was no official or formal planning, members were contacted via social media mainly Facebook and Whatsapp and relatives quickly embraced the idea of volunteering to pull off the event. Initially, it was intended to be held at the Timber-Head Resort, but due to initial feedback from members, it was hosted at Santa Mission instead.
"A very affordable budget for such was developed and had catered for transportation, meals, accommodation, jerseys and other Patterson souvenirs, activities, and other components," Patterson related.
He noted "the meals and catering service provided by the community was excellent and comparable to that of the Marriot. The social gathering and the devotional time were also highlighted as great and we all look forward to the next event."