–at African Roots Fashion show
AS the African Roots Week activities continued at the Queen's College auditiorium last Tuesday night was the fashion show, and nine talented designers took the opportunity to add some show of just how eclectic African print can be when you add a little modern style.
Among the lot of designers was young Nigerian national, Deborah Kehinde, who launched her third collection, Ominira (More than Emancipation), under her Rhoda Doxa line.
The collection comprised seven pieces that ranged from the perfect go-to-church look, to statement-making two-pieces that would sure turn a few heads.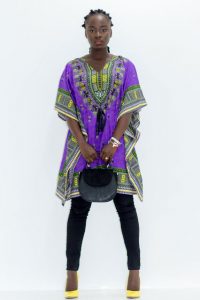 Kehinde herself modelled one of her pieces, an all-pink ensemble that included a flaired skirt and sheer, flutter top.
Other pieces included crop tops and pants, a layered skirt paired with a regular strap top, while a few headpieces, which were anything but conventional, were thrown into the mix.
Unlike many Guyanese designers, who incorporate African print and styles periodically in their designs, for Kehinde, it's her regular way of life.
"Back in Nigeria, we wear African Print on a daily basis; is not just for Emancipation alone, so I design what can be worn from church, to the office, to club outfits," Kehinde said.
"Guyanese people need to embrace African Culture more; it's not just once a year it should be worn," she told The Buzz.
Owning one of her pieces means donning a truly authentic African outfit, made with fabric brought all the way from the Motherland itself. The pieces form an additional part of the Rhoda Doxa line, which also includes her two other collections, Odunayo and Fumilayo.
Kehinde, who has been in Guyana since 2013 studying medicine, has been designing since around the age of seven. Her love for fabric was inspired by her mother, who deals in African print, and her creativity just comes from natural talent.
"As a child, I always played with the materials, then later I made an outfit from plastic bag when in Primary School and my classmate liked it," Kehinde said, adding:
"From since then, whenever I design something, it gives me joy."
The 24-year-old officially came out and began designing commercially in 2014, with the launch of her first collection. She launched her second last year.
Aside from designing and retailing African print fabric, Kehinde also runs a fashion blog at (www.rhodadoxa.blogspot.com). Juggling all of this while holding down a pursuit in medicine makes one wonder just how she gets it all done, but somehow, she just does.
She credits her ability to manage it all with her wonderful support circle.
"I just give thanks to God, my fiancé, Dr Michael Wayde, and my family and friends," Kehinde said.