–with tangible help from City Council
RESIDENTS of Lodge Housing Scheme have indicated their willingness to assist their community with clean-up work on a voluntary basis, but need the Mayor and City Council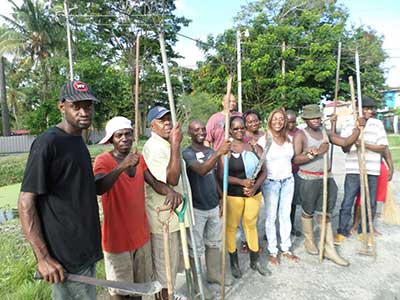 (M&CC) to be more proactive in providing necessary help.
Just last Sunday, more than 20 residents of the community turned out to support drainage and other clean-up works and managed to accomplish quite a bit, although having to cope with primitive tools.
When some of the residents met with City Hall officers to inform them about the works that were about to be undertaken, City Hall said they were not capable of transporting the small number of tools they had on hand to lend.
Because the residents could not manage transportation on their own, they could not benefit from the tools, but instead took away some garbage bags only. This was all they could fetch.
When the issue came up at the statutory meeting on Monday, Solid Waste Director Walter Narine said he knew nothing of the works that were planned. This is not withstanding Constituency Councillor Monica Thomas's claims that she informed him and Public Relations Officer Debra Lewis.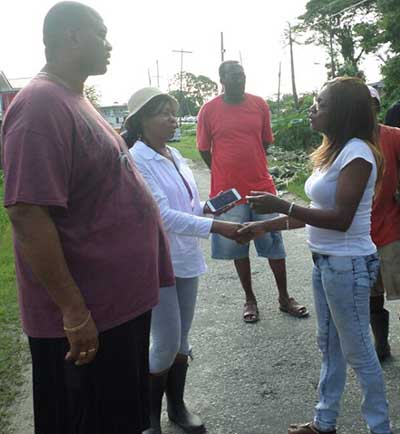 Residents David Smith, Kwame Lumumba, Bridget Benjamin, and Mario Gousse, who all turned up at City Hall on Monday to hear Councillor's Thomas' presentation, also told the Guyana Chronicle that City Hall was fully aware of the works that were planned.
In fact, Benjamin said Lewis was on the phone with her and another person from the Solid Waste Department at the same time inquiring about the garbage bags.
"I am appalled that the Solid Waste Director is saying he had no knowledge. The residents did an excellent job at cleaning out the drains and so on. These community groups that are willing to do self-help should be supported; it's disheartening that people are willing to work and are not being assisted," Thomas told her fellow councillors.
Meanwhile, Benjamin told the Guyana Chronicle that none of the residents are satisfied with the help from M&CC because Lodge has been neglected for many years. "They are disillusioned by that; they are affected by it. There is fear also in the community in terms of poor lighting, the abandoned trucks, over-flooding. The residents are willing to clean, and have cleaned before, but they are disillusioned and they are still pushing through, because they need to still keep integrity within their communities, but we actually want the council to act," Benjamin said.
She drew attention to the fact that there are many other surrounding areas that seem to be receiving services. "So there doesn't seem to be a cohesion, a systematic way of showing that all the areas are covered. People get frustrated because they work so hard and there is no maintenance," she said.
Lumumba, too, lamented that the area has been neglected for a long time. "We'd like our community to be something like Ms. Chase-Green (the mayor) own, because her community (Tucville) is well done. Meadow Brook is also maintained too. Our area has been neglected for a very long time," he said.
Lumumba is also calling for residents to be given work in the community. "If anything is going to be done in the neighbourhood, we would like to be given work instead of a strange person getting work in our community."
Gousse noted that the community has been doing lots of work on its own, but now needs the help of the City Council. "Plenty of the work quickly gets undone because of a lack of necessary tools," he said.