PROTESTORS yesterday braved the inclement weather to back calls for the revocation of the Metered Parking Project.
But while the rain did not deter the Movement Against Parking Meter (MAMP) from making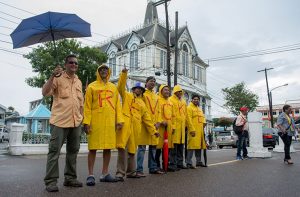 their voices heard, the turnout was not as large as we've grown accustomed to seeing.
As an extraordinary meeting of the councillors was in progress, the sizeable group used the opportunity to voice their concern outside of City Hall.
City Councillors were in the process of deliberating on the government's call to suspend the project, when an outburst of heckles started.
Protestors began shouting, "Revoke the contract!" And because the area was not blocked to vehicular traffic, there were minor confrontations.
One protestor said that despite all that is happening, he will stand against the parking meters, and was hoping for the project to be suspended.
Others shared his views, saying they will not stop protesting until the project is cancelled.