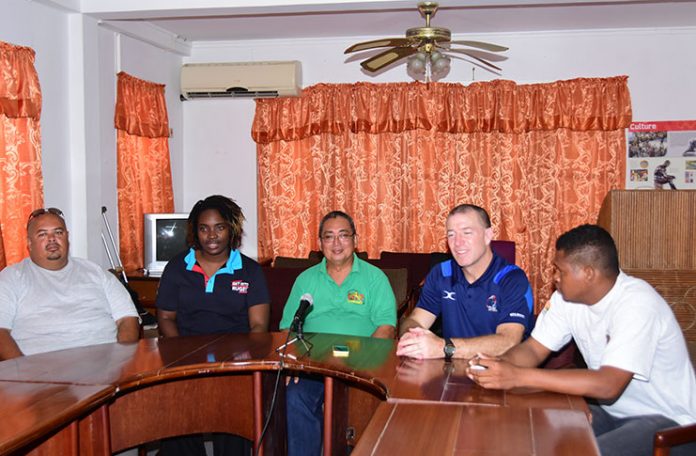 … Regional Development Manager lauds GRFU work
TRAINING and management aid for the discipline of Rugby will take centre stage this weekend when Rugby America North (RAN) lends its expertise to develop the sport locally.
RAN's Regional Development Manager (RDM) Scott Harland who is in Guyana along with 'Get into rugby' Coordinator Kwanieze John yesterday met with Director of Sport Christopher Jones before later hosting a press conference at the Guyana Olympic Association (GOA) headquarters on High Street..
According to Harland, their visit is to assist the continued development of the sport locally and to build on the performances of the national team by exposing more youths to the game as well as structural assistance to keep talent in the sport.
"We're here to help the union address the structure behind that (development of the sport), the foundation of the game, the youths who are playing, the coaching and refereeing that is delivered to the broader programme here in Guyana," Harland told Journalists
From today, RAN through the Guyana Rugby Football Union (GRFU) will commence Level one courses for both coaches who are interested in the sport as well as referees.
The RDM continued, "That's a world Rugby coaching course that will prepare people for coaching contact rugby the full game, the XV aside game. We know VII is the model in the Olympics and a popular one here but VX is the fundamental game that we play and that's where we start off."
He noted that the same applies for the referee course, being a world rugby course and in addition to that, the duo will be working on a union review and strategic plan for the sport locally.
Meanwhile John, who was here last August commented, "We were really happy that some of the teachers (from last year) have taken up the sport and will be a part of the Level one coaching course and it's really about providing that additional support that they will need with this visit."
President of the GRFU, Peter Greene, contended that the Union is happy for the review, adding, "Right now, the base is purely volunteers. We can't afford to pay people as much and we are hoping that with the love in their heart, that some people take the training to the regions."
The coaching programme will be held today, while the refereeing courses will be done tomorrow. Both will take place at the YMCA ground on Thomas Lands commencing at 09:00hrs.