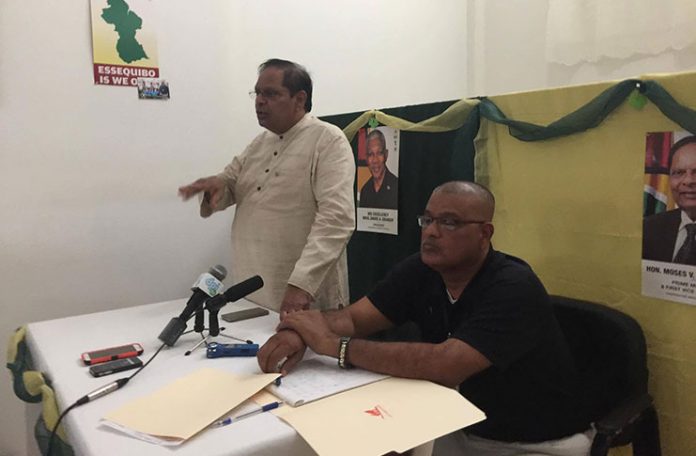 — Prime Minister reiterates in meeting with shrimp vendors and distributors of Surinamese Seafoods
Prime Minister, Moses Nagamootoo, has stressed that smuggling is illegal as he met with Berbice shrimp vendors and distributors of Surinamese Seafoods on Friday to settle their differences.
The Surinamese Seafoods are smuggled from neighbouring Suriname.
Nagamootoo's visit came after The Upper Corentyne Aquaculture Association (UCAA) picketed the Office of Region Six Prime Minister Regional Representative, Gobin Harbajan, calling on Government to investigate the illegal importation of Seafoods from neighbouring Suriname.
The UCAA said the illegal importation of shrimp and Tilapia from Suriname was creating unfair competition for local producers since they are sold at a much lower price that they can't compete with.
They further lamented that it was unfair since the local producers are required to pay taxes and other fees that benefit the Government while smugglers do not.
There was also a counter protest from the distributers of the Surinamese Seafoods who say that they would be left without an income should the trade be stopped.
Some protestors told Guyana Chronicle that they would be willing to pay a fee to continue to receive a constant supply.
Both parties had sought an audience with the prime minister.
Prime Minister Nagamootoo, addressing those gathered at the Port Mourant
Office, said as Caricom member states, free trade is encouraged between the two countries; however, they must be govern by rules that are fair to everyone.
"Suriname is a member of CARICOM and they have rules of competition.
The Caricom countries welcome competition, so it's free to trade with
another country once they observe the rules and there's also fair
competition. Where there is fairness in trade, everyone has a right to
enter the market once the rules are observe, so we don't have a problem
with shrimp coming from any country, we don't have a problem with
crabs or tilapia or chicken coming from any country, but we must
observe the rules."
ILLEGAL
The prime minister explained in detail to those gathered that while he
understands the arguments from both sides, smuggling is illegal and the
laws of the country must be upheld.
"We are committed to protecting the fishing industry by protecting our
fishermen, security is important because we want to find out whether
the shrimp is landing legally along the cost and anytime they are
landing illegally, they will be intercepted. Minster Ramjattan has
given assurances that the coast will be monitored for illegal landing
and when you are caught with shrimp or crab or so backtrack, it will carry a
high fine and confiscation of boats, engine and imprisonment, so we are
working on that so the rules does not include illegal acts."
He also spoke on the issue of health safety concerns with illegal importation of food items.
"Every person bringing in these items must produce a license to deal with fish and
shrimp, they must be certified and must go through the steps. The product must be tested every time it lands in Guyana; there must be a coordination between the fishery section of Ministry of Agriculture and Food and Drug Administration, to monitor the importation of shrimp which can only come in from authorised ports."
BEST SOLUTION
Prime Minister Nagamootoo said he met with Public Security Ministe,r Khemraj Ramjattan and Agriculture Minister, Noel Holder, and asked that a follow up discussion be held to arrive at the best solution for all parties.
"Suriname will also have to produce documents to say the shrimp is fit
for human consumption. The Minister of Agriculture was notified and a
follow up meeting will follow. We need standards, we need safety, and
so this matter will not be resolved right now. I heard all of you on
both sides, I am in sympathy with both sides, the vendors have to
live and the farmers have to live, once all parties make a decision, we
will have to make a decision to enforce the legal entry for the benefit of all."
Minister Nagamootoo also reiterated the Government's commitment to the
safety of the fisherfolk, pointing out that headways have been made to tackle piracy on the high seas.
"Since we came into Government, I pay particular attention to the National Security Committee Level to protect fishermen… you can see that we
would use the army plane to monitor the coast, but it's very costly. We
are also looking to install some instruments on boats so when you go
out there and an attack happens with the press of a button the police
are alerted. Last year, there was only one, this year, not one report thus
far. That means we are effective in protecting our fishermen."
The fisherfolk thanked the Prime Minster for giving them an ear and were pleased that he has arranged a follow-up meeting with the Minister of Agriculture and other stakeholders to work out an amicable solution in the matter.
Photo saved as PM
Caption: Prime Minister Moses Nagamootoo addressing the shrimp vendors and distributors of Surinamese Seafoods on Friday. At his right is his Region Six Representative, Gobin Harbajan