 By BRIJ PARASNATH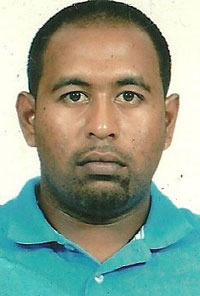 GAJANAND Singh showed that he has not lost much of the class that once made him a favourite Guyana youth player who displayed the class and aptitude to do big things in his cricketing career.
He produced two scintillating half-centuries in back-to-back matches and in the process sparked Demerara Cricket Club (DCC) to two convincing victories which pushed the Guyanese club to the St Augustine Campus UWIT20 quarterfinals round.
DCC will clash with Police in the second match of the double-header today. This will be a day-night encounter starting at 18:00hrs.
Merryboys will do battle with DHB United in the first match at 14:00hrs.
DCC had to play both Group D matches on the same day at the Sir Frank Worrell Memorial ground, St Augustine Campus and showed that they will be a major force to be reckoned with during the tournament. It is their first outing and they made a strong impression that they are capable of doing well and vie for top honours.
Gajanand Singh was the batting hero in both matches. He top-scored with an unbeaten 64 and skilfully guided DCC to an impressive seven-wicket victory over Moosai Sports which mustered only 101 all out in 18 overs in the second match played under floodlights.
DCC replied with 103 for 3 in 12 overs. Guyana's national Under-15 captain Sachin Singh also contributed 16. Adrian Geeban picked up two wickets for 21 runs.
Gajanand Singh collected the man-of-the-match award for his positive attacking stroke-play which ensured that DCC maintained their winning ways and topped their group in the preliminary round matches.
DHB United defeated Moosai Sports by 103 runs in their first match. They were led to victory by former T&T opening batsmen Nicholas Sookdeosingh, who smashed an unbeaten 102; and William Perkins (58) as they amassed 229 for 2 in 20 overs. Moosai Sports were restricted to 127 for 8 in 20 overs. Former Trinidad and Tobago pacer Uthman Mohammed captured four wickets for 25 runs.
Sookdeo was voted man-of-the-match.
Group D (First Round)
Match 2: DBH United – 158 for 8 from 20 overs (William Perkins 56, Yannick Ottley 31; Shurfane Rutherford 2 for 19, Cohen Ismond 2 for 26, Keemo Paul 2 for 31) vs Demerara Cricket Club 162 for 4 in 16.5 overs (Gajanand Singh 64 n.o., Kemol Savory 58; Uthman Mohammed 2 for 29, Stephawn Solomon 1 for 11).
Result: DCC won by 6 wkts.
Man-of-the-match: Kemol Savory (DCC)
Match 3: MOOSAI SPORTS 101 all out in 18 overs (Johann Lezama 41, Alden Daniel 14; Keemo Paul 3 for 18, Kellon Carmichael 2 for 20, Sherfane Rutherford 2 for 26) vs DCC 103 for 3 in 12 overs (Gajanand Singh 55, Sachin Singh 16; Adrian Geeban 2 for 21).
Result: DCC won by 7 wickets.
Man-of-the-match: Gajanand Singh (DCC)
Match 1: DBH United 229 for 2 wickets in 20 overs (Nicholas Sookdeosingh 102 n.o., William Perkins 58, Yannick Ottley 37 n.o.) vs Moosai Sports 127 for 8 in 20 (Lyndell Nelson 27, Ryan Inniss 20, Adrian Geeban 16; Uthman Mohammed 4 for 25, Stephawn Solomon 2 for 10, Dillon Mungal 2 for 29).
Result: DBH United won by 102 runs.
Man-of-the-match: Nicholas Sookdeosingh (DBH United)