CLIFTON Graham burst into tears before exiting the High Court on Monday after Justice Roxane George upheld the no-case submission in the murder trial of taxi driver Rawlston Bernard Henry between May 2 and May 3, 2009 at Onion Field, La Bonne Intention (LBI), East Coast Demerara.After Justice George made the declaration in court the 12-member jury announced a 'not guilty' verdict in favour of Graham, who once again became a free man.
Before he was allowed to go, Justice George told him to walk on the straight and narrow path after being given a second chance.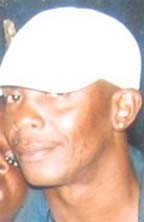 Justice George said, "Show me your friends and I will tell you who you are and "Moon a run till day catch am." She told him that his choice of friends back then was not wholesome.
The state was represented by Tuanna Hardy in association with Diana Kaulesar while, the Defence Counsel was Maxwell McKay.
Graham was indicted for the capital offence and pleaded not guilty to the charge which stated that between May 2 and 3, 2009 at LBI, he murdered Henry.
At the start of the trial Prosecutor Tuanna Hardy in her opening address told the court that on May 2 the accused, along with others, hired Henry to take them to the East Coast Demerara.
She said that sometime after, Graham and his accomplices held the driver at knife-point, ordered him to a location at Onion Field, stripped his car and killed him.
According to reports, the accused and others had hired the taxi driver from the Demico area of downtown Georgetown after which they hijacked the motorcar he was driving.
The car was found miles away at Plaisance in a trench minus its speakers and music system among other things.
Henry, 42, of 15 Durban Backlands operated his taxi PKK 9036 within the Demico House area when he was hired, hijacked and murdered.
The body of the father of five was found around 17:00 hrs on May 2, 2009 by residents. At the time sleuths were probing the discovery of a silver-grey Toyota Carina 212 motorcar, with bloodstains inside and parts missing.
Henry's body bore several chops to the neck and his hands were tied and mouth covered with duct tape.