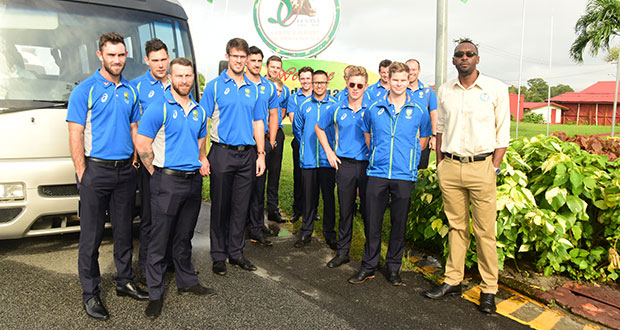 … Learning conditions key for success, says Smith
By Stephan Sookram
A CONFIDENT and cautious Australian side arrived yesterday morning in Guyana conscious of the fact that quick adaptation will be vital to their success against the hosts West Indies and the other touring South African side in the upcoming Tri-Nations series, starting Friday.They have already conceded that their best bet is to learn the conditions as quickly as possible and identify the type of cricket that may best suit them, skipper Steven Smith announced to the media.
It will be a drastic change of the norm for the Aussies like Smith, who are accustomed to the bouncy, faster, skiddy natured pitches of down under to the slower more balanced pitches of the West Indies.
The all-rounder nonetheless backs his side to get over that hurdle quickly.
"We just have to look at the conditions, sum them up quickly and hopefully play well from there. That's what our team does pretty well. We're trying to sum up the conditions as quickly as possible; play according to the way we need to play," the right-hander said.
He continued, "It's going to be a tough series, obviously the West Indies they play some good cricket at home and obviously coming off a high from the T20 world cup victory and South Africa are a very good one day side so I think it's going to make for a very good series."
His players' recent stints in the Indian Premier League (IPL) will also put them at an advantage, especially when it comes to facing several of the West Indian bowlers.
"I guess my experience will be good, I've played with Sunil Narine; I've played against Sunil Narine; I know him a little bit. I think that the rest of the players have seen him a bit, so hopefully we can handle him well and have a successful series," Smith added.
SPIN THE KEY?
Meanwhile, coach Justin Langer may have already thrown out his side's game plan ahead of their Guyana matches, the first of which takes place on Sunday against West Indies.
They will have a chance to do some reconnaissance as to how the pitch plays on Friday when the West Indies take on the South Africans, though coach, the former Aussie opener, has hinted at the possibility of a spin attack.
"We're expecting the wicket here to spin and we've got some good options if that is the case. We've got Lyons, and Zampa, the leg-spinner; Glen Maxwell can bowl a bit of off-spin as well, so whatever the conditions are, we are looking forward to a really tough competition," said Langer.
Langer, unfazed yet cautious of the opposition contended, "Whoever South Africa or West Indies pick is none of our business; who we pick is our business and we will make sure that we have our best team to play our best cricket." The South African squad arrived yesterday afternoon after playing the West Indies President's Xi on Sunday