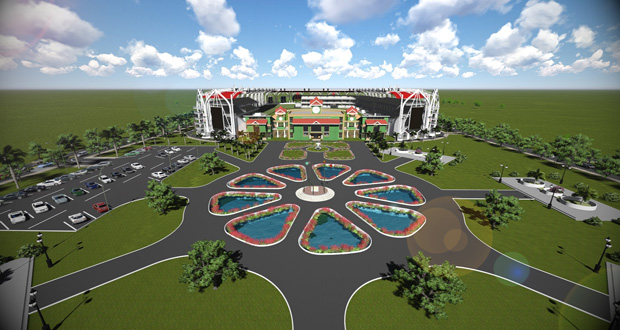 By Leroy Smith
THE six-month-old secret about the Durban Park project was let out of the bag on Tuesday evening when the committee responsible for its development met with residents of Hadfield Street and the Lodge Community for discussions.
The three-phase project includes the current preparations to accommodate a massive flag-raising ceremony on February 23, 2016 as Guyana gets ready to celebrate its 46th Republic Anniversary.
The second phase would be the acceleration of works to accommodate another massive flag-raising ceremony on May 26, 2016 when Guyana will celebrate its Golden Jubilee Anniversary.
The third phase would be the final leg of the project, which is to develop the entire location to accommodate a state-of-the-art, world-class arena to seat 30,000 persons, twice the capacity of the Guyana National Stadium at Providence.
Additionally, there would be several other features at the location that is being geared to promote family-oriented activities.
The Lodge residents were informed about the activities which are taking place at the location: The pile driving, construction of drainage infrastructure around the entire location, and the erection of a 200-ft flagpole to be first used on February 23, then again on May 26, and to remain a permanent fixture at the venue.
Public Relations Consultant, Alex Graham, in his powerpoint presentation, first spoke of additional upgrading works which would be done to the 1763 Monument site. Immediately behind that monument, there will be a promenade, which, according to Graham, would be open 24/7, unlike the other parks in the city which are often closed at a certain time.
JUBILEE STADIUM
Behind the promenade is where the proposed stadium, to be named 'Jubilee Stadium', will be erected.
The Stadium, according to Graham, who showed images of an artistic impression of the facility, would be a three-decker facility.
Behind the arena, there would be a large area designated for sporting activities, including lawn tennis, go-cart racing, basketball, jogging and walking tracks, along with other facilities.