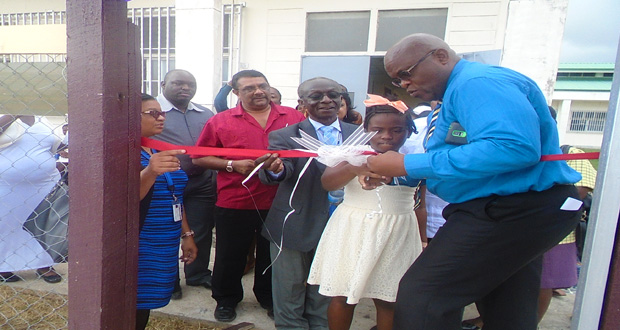 THE New Amsterdam Regional Hospital (NARH) has been made a more child-friendly environment with the commissioning of a playpark with support of the Pan American Health Organization/World Health Organization (PAHO/WHO).The project, a brainchild of NARH Medical Superintendent Dr Vishalya Sharma, will benefit children of the Paediatric Unit. It features two swings, one see-saw and one colourful slide.
PAHO Country Representative Dr William Adu-Krow, in brief remarks at the event, pledged his continued support, as PAHO will also be funding the construction of the shed and walkway of the park.
Dr Sharma expressed gratitude to PAHO/WHO for the assistance to the medical institution, and noted that the initiative was conceptualised three years ago, and without hesitation PAHO had come forward to assist.
The project was done in three phases: the beautification of the unit, provision of a playpen, and then the playpark. The NARH Medical Superintendent observed that, for some children, the institution had become home for them.
"Today, the Paediatric Unit continues to create waves; we continue to expand our services. Over the years, the hospital, specifically the Paediatric Unit, has become home for many children, a second home for some kids; and the doctors and nurses have become a lot like family," the NARH Medical Superintendent said.
Regional Chairman David Armogan said the project, though small, was significant in the sense that it is another initiative which seeks to improve the general condition of health services within the region.
He also expressed his appreciation to PAHO for its continued support in improving the health sector.
"This project seeks to provide a comfortable environment. This is one which seeks to do it not only in this ward, but the other ward also. We had some ideas in the improvement of the Maternity Ward, so we want to make the entire hospital as friendly an environment as possible for those people who have to use it… People should not be afraid to come to the hospital, people should not want to run away from the hospital once they need treatment; they should feel nice to come here."
Regional Executive Officer Dr Verasammy Ramayyah, in brief address, commended the initiative and PAHO for the collaboration. It is hoped that this project can also be implemented at other medical institutions in Guyana, he said.
The hospital's Chief Executive Officer, Colin Bynoe, noted that the playpark provides a child-friendly environment while the Maternity Ward also benefited from improvement works.
Director of Regional Health Services, Jevon Stephens, noted that the project has therapeutic benefits and would also afford children the opportunity to play together, so that they can become well-rounded social individuals.