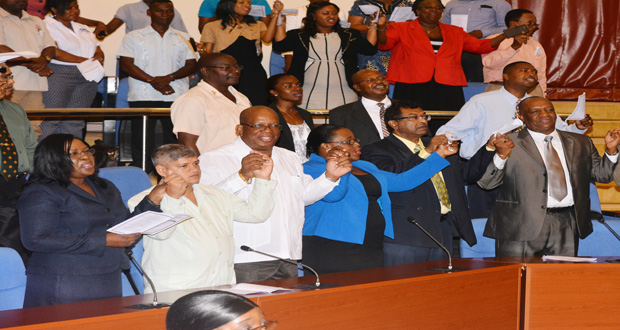 A ROBUST Public Service can take Guyana to the next level and a Public Service Staff College, which is to be established soon, will promote an essential part of this development, says Minister of State Joseph Harmon.He was speaking yesterday at the opening ceremony of the Guyana Public Service Union (GPSU)'s 21st biennial delegates' conference which commenced at the Arthur Chung Convention Centre. In attendance were Cabinet members, special invitees and stakeholders in the public service.
The biennial conference is scheduled from September 30 to October 2. Minister Harmon gave the feature address instead of President David Granger, who was engaged in meetings at the UN General Assembly.
Before moving into his remarks, Minister Harmon congratulated President Granger and his team on the tremendous work done to represent Guyana at the UN General Assembly, drawing loud applause from the audience.
Harmon noted that a government cannot function without the public service, which is one of the most important tasks of national life.
"I have already received recommendations for the Public Service Staff College as to the composition of the board, the quality of lecturers, the curriculum of the college. I have responded and I would like engage the GPSU and have their member on the board," Harmon disclosed.
Emphasising that services such as education, health, public security and infrastructure all depend on public servants delivery, Harmon said the quality of this delivery is the key determinant of the quality of life within the society.
Therefore, he said that the public service needs to be efficient to create an environment in which Guyanese can have a good life and a good life is not possible in Guyana without good public service.
In a frank presentation, Harmon said the administration has taken very seriously the public servant. "We have taken very seriously the morale of our public servant; we have taken seriously the benefits that are being accrued from work in the public service and what we are going to do is to indicate a new roadmap for the type of public servants we are looking for in this administration and the administration to come."
Adding that government is focusing on a public service that is relevant, reliable and accessible, Harmon said such will be responsive to the needs of the people that are equally effective in all regions of Guyana.
Remarking that the Public Service is an institution of historical knowledge and collective experience, the Minister of State said, "you can't have a public service that don't remember things, loses documents, that files documents in an improper manner, that destroys documents… This knowledge and experience must be available to the political administration at any given time so that public policy can evolve in a modern, progressive and developing way."
In order to discharge such institutional function, Harmon said the public service must comprise of men and women of integrity who are willing and able to give advice without fear, favour, partiality or prejudice and with strict administrative neutrality.
"The Public Service is the servant of Guyana and not the servant of any individual political party. We believe that this can only be achieved if the public service is based on a system of merit and political impartiality. The public service must possess expert knowledge and high standards of academic dedication in order to discharge its functions," Harmon stressed
In seeking to articulate further on the Public Service, Harmon said government is working to ensure a different state of affairs is taken to enhance all aspects of the Public Service. In this regard, he said a Public Service Staff College will promote an essential part of this development.
Acknowledging the advancement of Singapore, Harmon said that country has moved from Third World status to First World status because it invested in its human resources and a robust Public Service. "It is important to note that Singapore became independent one year before Guyana, and it doesn't have half of Guyana's natural resources… they invested very strongly in their Public Service and human resources."
Lamenting that Guyana has been labelled on the Transparency International index as a very corrupt nation, Harmon said this can be fought by having a proper and strong Public Service which the APNU+AFC government will promote.
He said an establishment of a Commission of Inquiry (CoI) into the public service is ongoing and working. The commission has been given a mandate to determine the measures to be taken to improve the efficiency of the public service. Secondly, reviewing the methodology used in the classification of public servants. Thirdly, examine salaries and wages of public servants and what must be fixed and finally to review and examine the retirement age of public servants and to make recommendations.
In addition, Harmon said government has reaffirmed its commitment to the collective bargaining agreement as a fiscal method of settling wages and salaries and resolving disputes for the national work force.
By Rabindra Rooplall