THE Publisher and Editor-in-Chief of Equality News, Canada's largest multi-cultural weekly newspaper, is Guyanese Bhaskar Sharma. On the occasion of his newspaper's 34th anniversary, he has announced plans to establish an arm of this publication in Trinidad, while also unveiling plans to establish a presence in Guyana in the near future.Equality News was established on May 30th 1981, and thus celebrated its 34th anniversary on Saturday. Hours ahead of that signature occasion, Mr. Sharma and his Managing Editor for the Caribbean, Mr. Leon Saul, who has always been supportive of the establishment and enhancement of this newspaper, paid a visit to the Guyana Chronicle, where they met and held brief discussions with Managing Director Mr. Michael Gordon and Editor-in-Chief Mr Mark Ramotar.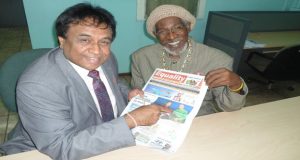 In an interview with the Guyana Chronicle, Mr. Sharma said: "I think it's a proud moment, not only for us but for our readers, over the years, and (for our) advertisers and Heads of State." He said many regional governments of the past and present, including those of Trinidad, Guyana, Jamaica and even Canada and the United States, have all — at some stage — had some interaction with Equality News.
Stating that, as publisher, he has been invited to start a publication of the Equality News in Trinidad and Tobago, Sharma said all systems are in place for launching of the publication on June 15.
It will be a weekly 36-page tabloid which will make for sound reading. What is unique about the paper, Sharma said, is that it will also be put on site, so that if one goes to www.EqualityNews.ca they can see the entire publication there.
The publisher said he believes one reason why Hon. Prime Minister Kamla Persaud-Bissessar is interested in having the publication in Trinidad and Tobago is because she knows the value and strengths of the diaspora, or her diaspora in particular. Reaching out to them, he said, would encourage their bringing business in the areas of tourism and other lucrative ventures.
Sharma also told of having clinched a deal where the Bhaskar Dainic (Daily Sun), which has an average daily circulation of approximately 10 million copies in India. That publication, he said, will be advertising the Equality's news site; and, in return, the Equality will advertise in the Bhaskar Dainic.
Managing Editor for the Caribbean (Equality), Ras Leon Saul, noted that Equality News has been a pioneer in promoting Guyana's tourism in North America as long ago as in the 1980s.
Saul, whose involvement with Equality News dates back to 1989, declared: "That's what started me in my career upward in terms of media in Canada. I have been associated with Equality News since 1989. I am still associated with it; and now we're going to work towards establishing its profile in Guyana, Suriname and the wider Caribbean."
Taking pride in Equality News' progress and impact over the last 34 years, Saul recalled that initially he worked with Canada's Contrast newspaper, before taking up appointment with Equality. He said he has since had no regrets.
He noted that Equality has, thus far, been very successful, in that it has carried advertisements for a Caribbean Airlines' tourist board, Les Jet, a Canadian outfit, and Fly Jamaica. Having done a study, those advertisers had determined that they could reach the diaspora while piggy-backing on the exposure of Equality News.
Saul expressed the view that, because of the nature of the publication, it is sorely needed at this juncture of Guyana's history. "Equality! The name says it for itself. It's a balance, and that's what the motto of this newspaper is: Maintaining the perfect balance."
Additionally, he said, Equality affords opportunity for ordinary people to express their views, and for people in power to also get their thoughts over to the masses. "It's about bridging cultures and establishing better relationships among ethnicities. That is what has happened in Canada, and that is what we hope to do right here, in Guyana and the Caribbean," Saul outlined.
Substantiating his claim to be promoting Guyana overseas, Mr. Sharma said Equality newspaper, which also owns the 'Equality Travels' and is part of the Equality Group, has developed six tourism videos on Guyana with 'Discover our World' as the theme.
Managing Editor for the Caribbean (Equality), Mr. Leon Saul, noted that Equality News has been a pioneer in promoting Guyana's tourism in North America since way back in the 1980s. He took pride in the progress and impact Equality has had over the last 34 years, and reiterated that he has not regretted his decision to work with Equality.
Saul said the platform this collaboration affords Guyana at this time is solely needed – the platform of equality.
Saul also functions as a script writer on several of Mr. Bhaskar Sharma's tourism videos. He comes from a background of journalism, and, several years ago, worked as a reporter with the Guyana Chronicle before migrating to Canada. But he credits 'Equality' with making him who he is.
"Because of the influence of Equality, I spun off and published my own newspaper, 'Uprising international', for 17 years; and that was because of what I had learnt in terms of community publishing from Equality. When it comes to the media and journalism, Bhaskar and I have a vision that we can change the landscape of reportorial involvement in Guyana," Saul said.
CULTURAL EXPLOSION
Both Mr. Bhaskar Sharma and Ras Leon Saul are cultural activists. Mr. Sharma plays the harmonium and Saul plays the African Djembe drums. Saul is a playwright/ producer/director, and they work well together.
The publisher revealed having plans, as part of the Equality Group, to set up a multi-cultural orchestra by which the six races of Guyana would be able to express their music in different ways and styles. He added: "And we are hoping that the new president and the administration, in the interest of culture, can help us get started; because if it is done in Canada, it will be funded by the Canadian Government."
Sharma said that on this short trip he is looking to determine whether he would get the needed help from Government to establish the orchestra, and he firmly believes that musicians can bring the people together better than any politician. He added: "Music reaches the soul, and it does not see the so-called colour and the demarcations on it."
Mr. Sharma also boasts a wide collection of CD recordings, some being Guyanese-Indian music being played on All-India Radio. "So that's an achievement of which I am proud," he declared, "being assured of a listenership of 10 million people.
"So we have reached somewhere, and Equality News has been telling a story of happenings at home and abroad; and we wish to continue to do that through my sons, who are taking over," he said.
Sharma congratulated His Excellency President David Granger on his assumption to the highest office in the land, and Mayor Hamilton Green for being conferred with the Order of Roraima.
By Shirley Thomas