GUYANA's longest serving Prime Minister, Samuel Hinds, yesterday extended his congratulations to Elisabeth Harper, the new Prime Ministerial candidate for the People's Progressive Party/Civic (PPP/C), ahead of the May 11 polls. 
"I extend heartiest congratulations to Ms. Elisabeth Harper, Director-General, Ministry of Foreign Affairs. DG, as she is familiarly known – on the announcement of her selection as prime ministerial candidate for the People's Progressive Party/Civic (PPP/C) in the up-coming national and regional elections, on May 11, 2015," he said.
The incumbent prime minister added that Harper is a Guyanese of "exceptional national" commitment.
"I am confident [that she] would work with everyone in pursuit of the national "good." Indeed, I commend Ms. Elisabeth Harper to all of our PPP/C supporters and to all Guyanese," he said.
The outgoing official also urged that the Guyanese people join him in ensuring a victory for the Ramotar-Harper team.
"Do join me in winning every vote that we can, for Mr. Donald Ramotar as President, and Ms. Elisabeth Harper as Prime Minister," he said.
Hinds, now 71 years old, was expected to relinquish his post this year.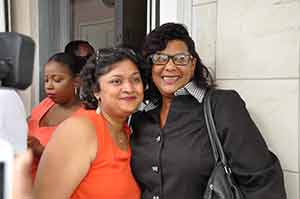 He first became Prime Minister under Dr Cheddi Jagan in 1992, following the October 1992 election, which was won by an alliance of the People's Progressive Party (PPP) and a group of civil society members, the Civic component, which included Hinds.
The party's Civic component comprises Guyanese who are willing to contribute to the development of Guyana and who are supportive of the PPP's agenda, but are not PPP members.
Since 1992, the tradition has been that the party's presidential candidate comes from the PPP, while its Prime Ministerial candidate is taken from its Civic component.
When Dr. Jagan died in March 1997, Hinds became President himself, relinquishing his Prime Ministerial post, but later resigned in December of that year, in favour of Mrs. Janet Jagan.
Elections were subsequently held in December 1997, and when the PPP/C won, Mrs. Jagan re-appointed him Prime Minister. He was retained under the next presidency, that of Dr Bharrat Jagdeo, and then again under the current Administration, headed by President Donald Ramotar.
Prime Minister Hinds has given more than two decades of sterling service to Guyana.
Hinds is a chemical engineer who studied in Canada, and was General Superintendent of the Research and Development Division at Linmine.
(Vanessa Narine)