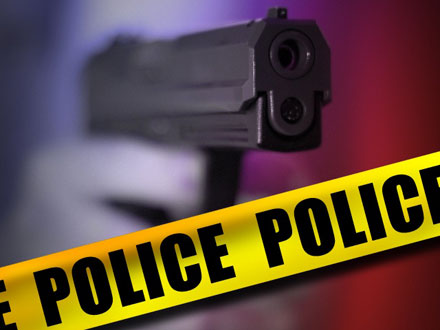 A MIDDLE-aged East Bank taxi driver, said to be a drug addict, yesterday relieved a policeman, who happens to be his cousin, of his firearm, shot his neighbour, then turned the weapon on himself.
Dead is Samuel La Fleur, 46, of 193 Back Street, Prospect, East Bank Demerara. The injured neighbour is Onica Little, 32, who, up to late last evening, was reportedly receiving medical attention at the Georgetown Public Hospital for a gunshot wound she sustained in the back.
According to reports, the incident occurred just after lunch, and stemmed from an argument earlier in the day between La Fleur and his mother.
Sources say that even though the two had settled their difference, the mother, knowing of her son's addiction, decided to call her nephew, a policeman, whose name has been given as Johnson, and lodge a complaint.
On Johnson's arrival at his aunt's Prospect address to speak to his cousin about the misunderstanding with his mother, La Fleur reportedly told him that he did not want to talk about his drug addiction. They both agreed on this, since Johnson was not there in his capacity as a policeman, but as a relative.
At the time of his visit, the Chronicle learnt, Johnson had on him his licensed firearm, and not the service weapon which was issued him by the Guyana Police Force.
Reports are that while speaking to Johnson, La Fleur brought up an old misunderstanding between he and his neighbour, one Curtis Lewis, over a bird cage the man had allegedly knocked over.
In his anger, La Fleur reportedly told Johnson that people like Lewis needed to die, but the latter cautioned him about his utterances. However as soon as Johnson turned his back to head upstairs to speak with his aunt, La Fleur disarmed him, and a scuffle ensued.
La Fleur somehow managed to overpower his policeman cousin, run out of the yard with the man's firearm, and began firing shots at Lewis' home. After realising that Lewis was not there, the now enraged La Fleur raced back into his yard, and,proceeding to the landing, again began opening fire at Lewis' home.
It was during that second round of gunfire, sources say, that Little, who, with her son, had sought refuge in her bedroom,was injured.
After completing his deed, La Fleur then turned the gun on himself, and fired a round which connected to his head. He was picked up and rushed to the Diamond Hospital where he was pronounced dead on arrival.