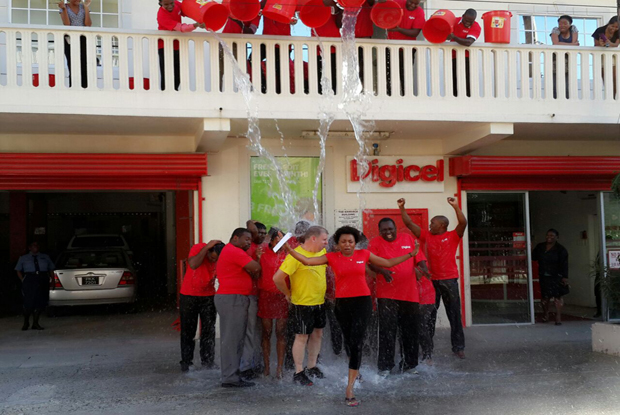 HAVING accepted the 'Ice Bucket Challenge" from Digicel Suriname, Digicel Guyana on Saturday completed that challenge at its headquarters at Fort and Barrack Streets in Kingston, Georgetown, after which Digicel Barbados was nominated to do likewise.
Speaking to the media Friday, Digicel Communications Manager Vidya Bijlall-Sanichara said that although the ASL Challenge was made within 24 hours, Digicel Guyana still went ahead and did what it had to do anyhow.
She noted that by doing the ice bucket challenge, Digicel Guyana staffers think they have put a local twist to the challenge, and are calling on other companies, such as National Communications Network, Ansa McAl Trading, Wartsila, Minister Irfaan Ali and his ministries, among others, to do likewise.
Bijlall-Sanichara added that Digicel-Guyana has since uploaded the video to YouTube, and will also donate to a local charity.
She said that yesterday's exercise was planned, and Head of Marketing, Jacqueline James; Chief Financial Officer, Kevin Kelly; other senior managers, middle managers and other staff members participated outside Digicel headquarters at 16:30 hrs.
Bijlall-Sanichara pointed out that those who forfeited the ice bucket challenge had to pay a fine by putting money in a specially marked box that is placed in the office, in an effort to support the cause.
The Ice Bucket Challenge
The Ice Bucket Challenge, sometimes called the ALS Ice Bucket Challenge, is an activity involving dumping a bucket of ice water on someone's head to promote awareness of the disease amyotrophic lateral sclerosis (ALS) and to encourage donations towards research.
It went viral on social media during July-August 2014. In the U.S., many people participate for the ALS Association; and in the U.K., many people participate for the Motor Neurone Disease Association, although some individuals have opted to donate their money from the Ice Bucket Challenge to other organisations.
The challenge dares nominated participants to be filmed having a bucket of ice water poured on their heads, and challenging others to do the same. A common stipulation is that nominated people have 24 hours to comply, or forfeit by way of a charitable financial donation.
Written By Michel Outridge