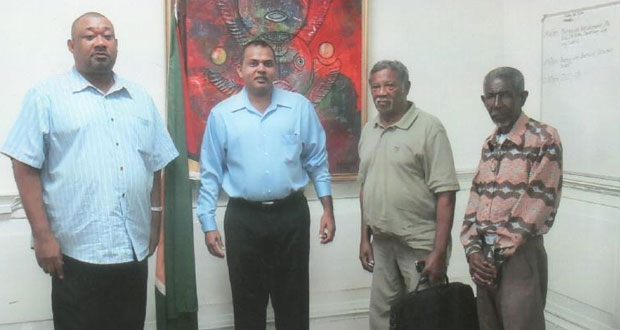 A THREE-MAN committee of the Berbice Cricket Board 75th Anniversary committee, headed by Chairman Hilbert Foster last Friday paid a courtesy call on Minister of Culture, Youth and Sport Dr Frank Anthony at his Main Street, Georgetown office. The other members of the committee were former president of the BCB Malcolm Peters and Guyana and West Indies legend Basil Butcher.
The delegation informed the Minister of the massive plans of the BCB to observe the Diamond Jubilee anniversary including the hosting of at least 20 cricket tournaments at all levels and 50 major programmes/activities including the publication of a special full-coloured magazine. Other plans outlined to Minister Anthony were their annual award ceremony, inter-county match, HIV/AIDS march and rally, unveiling of the greatest cricketer produced by Berbice Portrait, inter-religious service and a special dinner/exhibition for Test cricketers, national cricketers, administrators and sponsors of Berbice Cricket.
Minister Anthony congratulated the BCB on their stewardship of the game in the Ancient County and pledged the cooperation of the Ministry of Sport to make the anniversary celebration successful.
Minister Anthony committed to providing funds for the Golden Jubilee Dinner and Exhibition and asked the BCB to provide a photograph of Mr Rohan Kanhai to prepare his portrait as the greatest cricketer produced by Berbice.
The Ministry of Sport would also provide some trophies for the annual award ceremony scheduled for March 16 while the board also sought the cooperation of the Ministry of Culture to organise an evening of music for the expected overseas visitors.
Efforts are also being made to have Dr Clem Seecharran, a Guyanese cricket expert based in England, to deliver a lecture on Berbice Cricket during his upcoming visit to Guyana.
Minister Anthony promised to cooperate with the BCB to obtain a three-day cricket tournament sponsorship as the board strives to expose its younger cricketers to the longer version of the game.
Chairman Hilbert Foster expressed gratitude on behalf of the 75th anniversary committee to Minister Anthony for the 90-minute meeting and for his commitment. The committee is also expected to meet with Minister of Tourism Irfaan Ally shortly.