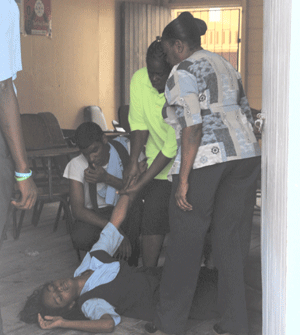 TEACHERS of St. Stanislaus College were this morning presented with a newly refurbished staff room valued in excess of $3M, by a group of students from the Class of 1979 numbering approximately 30 and calling themselves the Barnyardians, in dedication to the memory of Father Fred Rigby, a Jesuit priest who had taught French at the College for many years.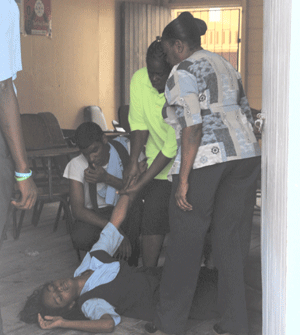 After his retirement, Father Rigby went on to perform his priestly duties in the interior. He died from cancer 10 years ago.
According to Raj Singh, a representative of the Barnyardians, the refurbished staff room is "a demonstration of the lasting impact a good teacher has on an entire generation of students, and the gratitude of those students."
The 'Barnyardians' reside in countries such as the USA, Canada, Antigua and Guyana, among other places. They have been hosting their own reunions for the past three years. The idea for the project was spawned in group discussions pertaining to how they could contribute to the college and honour the contribution of Father Rigby to their own lives.
Funding for the project came from the 'Barnyard', other friends and past students of the college.
Mr. Chris Fernandes, Chairman of the St Stanislaus College Board of Governors, oversaw the entire project, and teachers of the school provided guidance on its scope and timing.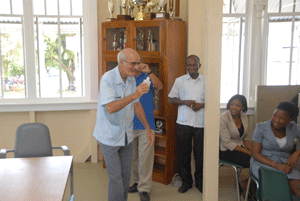 Tristan Gomes, past student now quantity surveyor, provided all the technical plans free of charge. Allan Fernandes and Robert Lewis were the contractors.
St. Stanislaus College turned out stellar performances at the CSEC examinations this year, obtaining 100% passes in English A; 98% in Literature and 95% in Mathematics  – Grades 1 to 3.
Present at the handing-over ceremony were Chris Fernandes; District Education Officer Rabindra Singh, representing the Ministry of Education; Father Malcolm Rodrigues; College Headmistress Mrs. Paulette Merell; representatives of the 'Barnyard'; President of the PTA; teachers and students, and other well wishers.