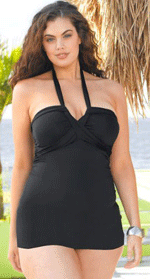 – to choosing the right swimsuit
IT'S that time of the year again when picnics, beach parties, and a dip in one of Guyana's many creeks and lakes is a must. At gatherings in this respect, it is quite common to see many Guyanese women modestly (and boringly) covered up. The t-shirt-and-tights look seems to be a common look for plus-sized women, or older women especially. To all those ladies, your weight or age is no excuse not to step out in a sexy, trendy number this summer.
Stop being lazy, you've come to the right place to find ideas for your own sexy fashion statement.
Admittedly, picking a swimsuit if you have a fuller figure can be quite a struggle, as many of them are flimsily designed for smaller figures. This can mean 'wardrobe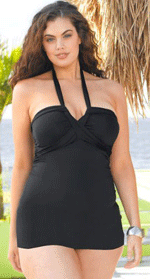 malfunctions' (love that term) such as snapped straps and bottoms that won't stay in place.  Looking uncomfortable is not being sexy.  But take heart, there is the right suit for you. There are quite a few options nowadays.
Swimdress
When it comes to classic swimwear, you can't go wrong with swim dresses. They have been around for ages, and over the years have been revamped to reflect the fashion trends of today.  Swim dresses are a great choice for women of all ages, but plus-size swimdresses are a great choice for the full-figured woman of any age or size.
A swim dress can minimize the tummy and hide the hips. You can flaunt those curves with unabashed style and elegance.
The tried-and-true one-piece
Factor in colour, cut and coverage, and you can find a perfect one-piece swimsuit that can and will compliment just about any body shape.  The full coverage a one-piece offers, and its ability to conceal unflattering areas, can give you the confidence you need while strolling the beach or lounging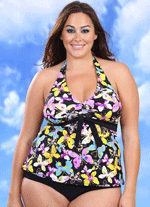 by the pool.
The super-sassy Skirtini
The Skirtini offers the classic look of the plus-size Swimdress with the versatility of a two-piece bathing suit. The Skirtini is a plus-size woman's alternative to a two-piece, and it has a lot of flare. The Skirtini has very similar interchangeable tops, like halter top Tankinis, and bottoms much like a skirt.
This style of swimwear is great for the full-figured woman who is looking for a little more coverage.
The Tankini
The Tankini is one of the most popular swimsuits of all time.  These bathing suit separates offer the cool alternative to the sometimes boring one-piece.  Having the option to purchase the top and bottom separately is the icing on the cake.  So, if you're a full-figured fashionista looking for that ever-so-popular underwire Tankinis in a size 16, because you have a little more cushion on your bottom half, getting the top in a size 10 is not a problem, because you can buy this fabulous swimsuit separately.
The Shortini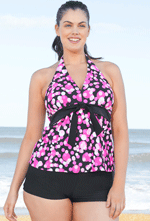 Similar to the Skirtini and the Tankini, the Shortini offers that extra coverage for hips, thighs, and buttocks.  The Shortini also has the versatility of the Skirtini and Tankini, with the ability to mix and match. This style of swimwear offers comfort and coverage, which is a great option for those who are in search of a trendy yet modest look while on the beach.
Of course, there is nothing stopping you from wearing an outright B-I-K-I-N- I; but, for our ladies who dare to bare, there are still a few elements that one needs to watch for. For example, a busty lady needs to make sure that her top is sturdy. Make sure the top has underwire, or is a hefty halter to tie around your neck. Make sure the top is not too small, and that it will keep you contained. Bottoms should be able to stay in place, and not be too skimpy.
Whichever style you may choose, always keep in mind that the most figure-flattering bathing suits should always compliment the wearer, conceal the problem areas, and, last but certainly not least, offer the best support for the stomach, bust and booty.