-to extend soon-to-be completed WCD highway to Parika
AS government pushes ahead with its development plans for Region Three, Qatar has loaned Guyana US$350 million, which will be used to extend the Crane to Schoonord four-lane highway to Parika.
This was disclosed on Saturday by President, Dr. Irfaan Ali, during a community meeting held for those living within the Malgre Tout/Meer-Zorgen area.
"I just came back from Qatar and we have secured US$350 million to continue that road through to Parika…we have more or less concluded arrangements for a new loan that will see the continuation of the highway all the way to Parika," President Ali announced.
Earlier this month, the Head of State led a delegation on an Official Visit to Qatar during which there were several bilateral discussions and engagements which centred on matters of interest to both countries.
Contracts valuing $11.8 billion were awarded in September 2022, to several contractors by the Ministry of Housing and Water for the construction of a four-lane highway from Schoonord to Crane.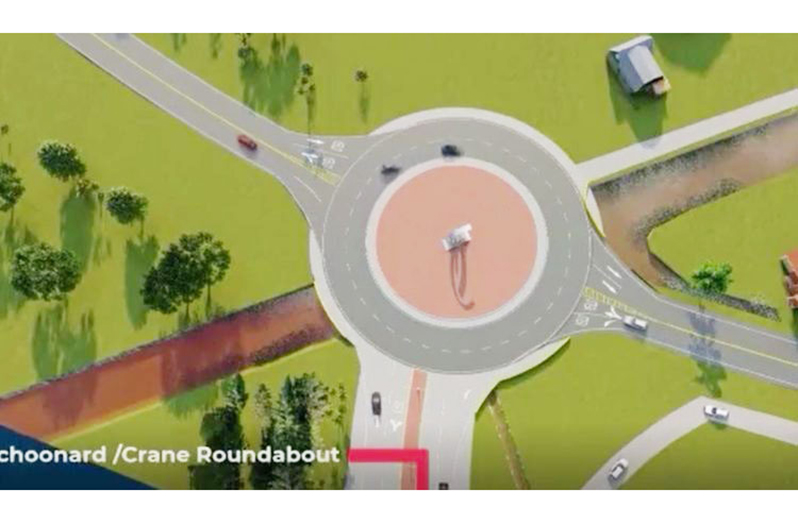 The contractors are VR Construction Inc., Avinash Contracting & Scrap Metal Inc., L'Heureuse Construction and Services Inc., GuyAmerica Construction Inc., AJM Enterprise, Vals Construction, Puran Bros Disposal Inc., and JS Guyana Inc.
The project, expected to be completed before 2024, will see the construction of 4.1 kilometres (km) of a dual carriageway reinforced concrete road with an emergency lane as well as 2.4 km of road rehabilitation and upgrade.
It will also feature two roundabouts, 11 reinforced concrete box culverts, 36 pre-stressed bridges, and road signage and markings.
A new roundabout will connect the West Coast Demerara Highway to the new Schoonord to Crane highway. The road is expected to be ready by year-end.
Prior to the signing, President Ali had signalled government's intention to extend the highway to Parika.
According to President Ali, the highway was necessary to ease traffic congestion along the West Bank and West Coast of Demerara and to help speed up development in the region.
This road link, President Ali had said will open thousands of acres of land for housing, massive agriculture and agro-related projects, and tourism and other related activities.
The construction of this particular road is merely a component of a broader plan to modernise the country's infrastructure and create myriad alternative and more convenient linkages.
At the centre of those plans is the construction of a new 'fly-over' Demerara Harbour Bridge, which will stretch from Nandy Park on the East Bank of Demerara (EBD) to La Grange, WBD.
The new four-lane, high-span bridge, once completed, will replace the existing structure which was built in 1976, over four decades ago.