–President Ali says outreaches allow people to engage the government in their own environment, resolve issues in real time
AS the Government of Guyana continues to follow through with its commitment to bring the services of the government to each region, another outreach led by Dr. Irfaan Ali was held at the Leonora Track and Field Centre in Region Three (Essequibo Islands-West Demerara).
At the Region Three outreach, which continues today, President Ali said that they are utilising technology to increase efficiency, and to help them move the system rapidly.
A new system, he said, has been developed, whereby every person is given a case file, and in real time. It shows whether a case has been resolved, referred or marked non-actionable.
"You'll see, in real time, what is being resolved; what is being referred, like resolved, referred, not actionable. Some of them might be personal matters," Dr. Ali said.
The President related that from the starting time, 08:00 hrs to midday, there were almost 600 case files.
"So, every person is given a case file, and as you go to the agency, we are able to assign you as you enter to the different agencies, and we are able to track what the agency is doing, and how the matter is being resolved," he said.
President Ali noted that if a matter requires a high-level intervention, it can be extracted from the system.
"So, I think this (the new system) is very important in improving efficiency, removing bureaucracy, and allowing people to experience government in their own environment," he said.
The Head of State related that sometimes persons may not be comfortable with dealing with matters in environments such as banks, in a suit and tie, but in an environment such as the Track and Field Centre they find comfort.
He said that this is why the government is moving towards more of an electronic system.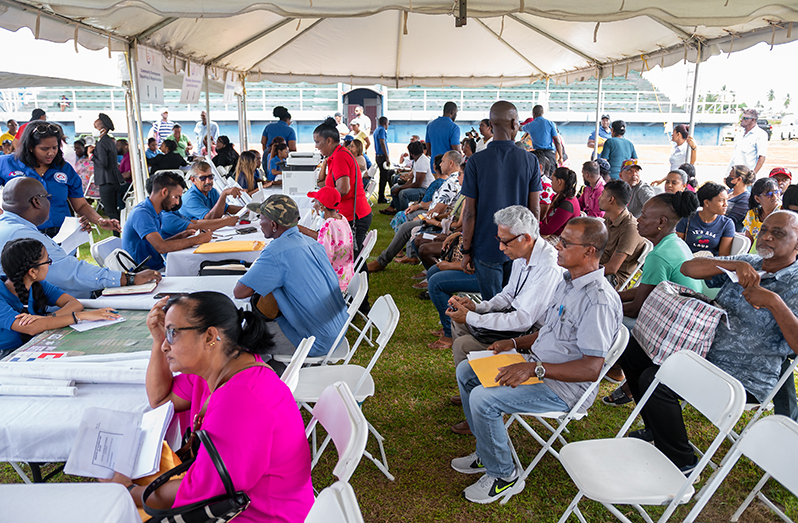 "That is why moving our government system more to an electronic form, where technology is used, and getting people to move with single documents instead of big, big files," President Ali said, adding:
"All of this is important. Some people came with a health file that is thick, and they are moving with their entire health record that can get lost; when we have a patient management information system, all of that will change."
He said that during the two-day outreach, they expect large numbers in the afternoons, given that most people would be at work during the day.
"This is a region where a lot of people are working; so, this afternoon, I am sure there will be a major rush here, with all indications that we are having. So the team will be here until 07:00pm tonight on both nights, trying to resolve as much as we could," Dr. Ali said.
The President noted that in all of the regions, they have been receiving issues dealing with housing, which, he explained, is because of the ongoing massive housing programme.
"Now you have to remember that the housing programme was dead for five years; we have a big backlog. And then you have a lot of new applicants; so that is a high demand area [and] NIS issues. NIS issues occupy a lot of space too," the Head of State said.
Additionally, President Ali disclosed that 70 per cent of the issues brought forward by over 2,000 people residing in Region Six (East Berbice-Corentyne) since the first Presidential Outreach, have been resolved.
"We went to Region Six, and we saw over 2,000 people. More than 70 per cent of the cases we have been able to resolve," the Head of State said.